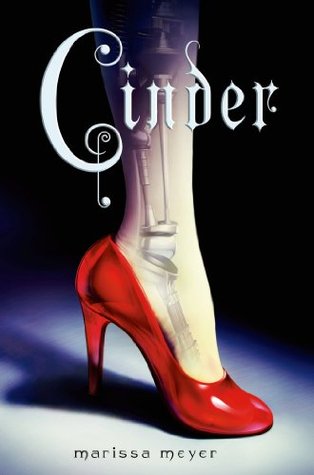 Title: Cinder
Series: The Lunar Chronicles #1
Author: Marissa Meyer
Publisher: Feiwel & Friends
Publication Date: January 3, 2012
Genre: Young Adult, Sci-fi, Fairytale Retelling
Length: 390 pages
Source: Purchased
YALSA Teens' Top Ten Nominee (2012)
Abraham Lincoln Award Nominee (2014)
Goodreads Choice Nominee for Best Young Adult Fantasy & Science Fiction (2012)
Humans and androids crowd the raucous streets of Bew Beijing. A deadly plague ravages the population. From space, a ruthless lunar people watch, waiting to make their move. No one knows that Earth's fate hinges on one girl.
Cinder, a gifted mechanic, is a cyborg. She's a second-class citizen with a mysterious past, reviled by her stepmother and blamed for her stepsister's illness. But when her life becomes intertwined with the handsome Prince Kai's, she suddenly finds herself at the center of an intergalactic struggle, and a forbidden attraction. Caught between duty and freedom, loyalty and betrayal, she must uncover the secrets about her past in order to protect her world's future.
Cinder is a cyborg mechanic living under the thumb of her step-mother and step-sisters in the Commonwealth of New Beijing, which is plagued by a mysterious illness called letumosis. One day, Prince Kai shows up at her mechanics booth and asks her to fix his android and this sets off a chain of events that make Cinder question her life, her loyalties, and who she really is.
I'll admit that I'm not the biggest fan of fairytale retellings even though I've been reading a few more than usual for the past couple of years. I've never really been into the 'dressed-up princess' storyline so I was very hesitant to read this despite the sci-fi setting. I'm really glad that I gave it a chance, though, because it definitely blew any other retelling I've read out of the water. If there's any way to do a retelling, this is it! I was never bored with this story.
It basically has a complete 'stand alone' feel to it so that it doesn't really even need to be considered a 'retelling'. Change Cinder's name to something else and I wouldn't even know that this is a retelling of 'Cinderella'. Of course it has it's similarities - an unloving stepmother, two stepsisters, a prince, and a Ball - but otherwise, it's a story all of it's own.
One thing that I didn't quite like about 'Cinder' was that it was very predictable. Early on, somewhere around chapter 3, we are introduced to the story line of the 'Lunars', which is an evolved race that inhabits the moon. We are told that the Lunar queen supposedly killed her niece but that there are rumors that this princess survived and was transported to Earth. Pretty much at the same time we are introduced to Cinder's 'foggy past' and the 'accident' that left her memory wiped out before she was eleven. Basically, I felt like I was given the climatic ending up front so I knew what was really going on the whole time even though the character doesn't quite figure it out until the end.
Hopefully I'm not giving too much away since all this information is given in the first few chapters but I apologize if anyone feels like I've 'spoiled' it for them. The first 5 chapters were available to read before this book was even published. Also, it's a retelling so you're basically 'spoiled' anyway.
Despite it's predictability, I would very much recommend this to anyone who hasn't yet read it. I thought I was one of the 'last' (at least in the group of readers and bloggers who follow the YA trends) but I'm sure there are a few others out there that have yet to read it. It's definitely refreshing and unlike any retelling I've encountered before. It's probably as far from Cinderella as a retelling can get and definitely worth a read.