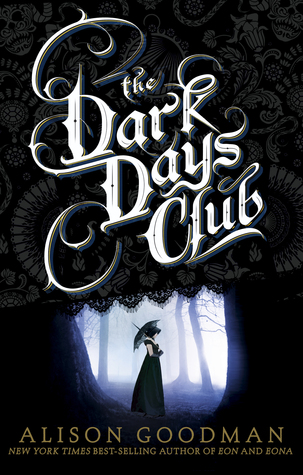 Title: The Dark Days Club
Author: Alison Goodman
Series: Lady Helen #1
Publisher: Viking Books for Young Readers
Publication Date: January 26, 2016
Genre: YA, Historical Fiction, Paranormal
Pages: 482
Source: Library
Synopsis:
London, April 1812. On the eve of eighteen-year-old Lady Helen Wrexhall's presentation to the queen, one of her family's housemaids disappears--and Helen is drawn into the shadows of Regency London. There, she meets Lord Carlston, one of thefew who can stop the perpetrators: a cabal of demons infiltrating every level of society. Dare she ask for his help, when his reputation is almost as black as his lingering eyes? And will her intelligence and headstrong curiosity wind up leading them into a death trap?
Lady Helen Wrexhall is nervous about her presentation to the Queen. Her deceased mother is still talked about as a traitor and Helen knows that gossip like that could ruin her. But her aunt and uncle have worked hard to keep her in good society in hopes that they can marry her off to someone of great wealth and importance and save everyone's reputation. But when she learns that there are demons within her circles of society, her reputation and sanity is threatened.
I'm going to go ahead and mix up my reviewing style for this one and simplify things since I don't have much to say about it.
The Good:
I enjoyed some of the historical fiction aspect of this story. The etiquette and propriety of the upper class circles always amazes me and makes me happy that we live in a more lenient era.
The Bad:
The first 150 pages or so were pretty slow and nothing really happened. I could see a lot of people losing interest if they don't already have an interest or liking of historical fiction. Likewise, the demon aspect was a bit disappointing. I was really expecting something a little darker, more traditional, and less... monster-ish. I heard that it was very Infernal Devices about half-way through reading it and I can't say that that is true even though I've only read Clockwork Prince. I'm not a big Cassandra Clare fan but I'd honestly rather read about Clare's demons.
I'm not entirely sure that I warmed to any of the characters. Lady Helen is an ok protagonist. She doesn't stand out as a demon-hunting type of girl but her quick wit does give her a little edge. Lord Carlston did not really intrigue me at all. I think if I envisioned him differently he might have but it just didn't happen. And those were the most interesting characters.
What's next?
I do believe that the sequel could be a lot better. While this one was slow to build and focused on propriety and not letting a woman step out of line, Lady Helen may have the freedom to do as she pleases and go about kicking demon ass in the future. There might be a romance to look forward to as well. For these reasons I would like to give the sequel a chance but I will wait for reviews to see if the story picks up or not.