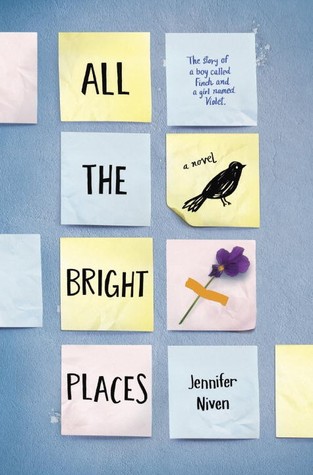 All the Bright Places
by Jennifer Niven
Published by Knopf
on January 6, 2015
Genre: Young Adult, Contemporary, Mental Health
Length: 378 pages
Literary Awards:
Goodreads Choice Award for Young Adult Fiction (2015)
Pennsylvania's Young Readers Choice Award Nominee for Young Adults (2016)
Milwaukee County Teen Book Award Nominee (2016)
Amelia Elizabeth Walden Award Nominee (2016)
South Carolina Book Award Nominee for Young Adult (2017)
Rhode Island Teen Book Award Nominee (2017)
Missouri Gateway Readers Award Nominee (2017)
Lincoln Award Nominee (2017)
Goodreads Choice Award Nominee for the Best of the Best (2018)
Synopsis:
Theodore Finch is fascinated by death, and he constantly thinks of ways he might kill himself. But each time, something good, no matter how small, stops him.
Violet Markey lives for the future, counting the days until graduation, when she can escape her Indiana town and her aching grief in the wake of her sister's recent death.
When Finch and Violet meet on the ledge of the bell tower at school, it's unclear who saves whom. And when they pair up on a project to discover the "natural wonders" of their state, both Finch and Violet make more important discoveries: It's only with Violet that Finch can be himself--a weird, funny, live-out-loud guy who's not such a freak after all. And it's only with Finch that Violet can forget to count away the days and start living them. But as Violet's world grows, Finch's begins to shrink.
My Thoughts:
This book was painful.
I'm quite fond of tragedy but I think this one hit me a little too hard. Everything about this book was beautiful but also so heartbreaking.
You think you'll be okay, because you know from the start that Finch doesn't plan on living, but it will still hurt. A lot.
Niven did an amazing job of covering mental health as well as the spirit of being a young adult while dealing with difficult life situations in this book.
I think All the Bright Things has a lot of hard life lessons in it though. Ones like: You may/will get hurt, more than once, in ways that you think you may never heal from. Time does heal though. The memories will always be there, but the pain does lessen, and the best way to deal with it all is just to live. However you can. Just live.
I personally don't think that anyone that is going through a really rough time and that may be susceptible to low moods should read this until they are in a stable frame of mind. As an adult who has much better control of my emotions now than I did as a teenager, I was still affected pretty deeply by this book. It doesn't have the most positive, uplifting, or happy ending. It doesn't seem very hopeful. It's definitely worth the read though.
If you're just looking for an ugly cry, this might be the perfect book to choose.