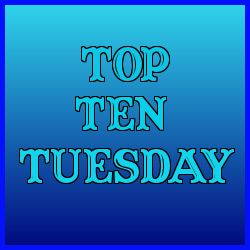 Top Ten Tuesday is a weekly meme hosted by
The Broke and the Bookish
.
Top Ten Reasons I Love Being A Blogger/Reader
Hmm. I haven't been blogging very long but I do enjoy it.

---

I enjoy sharing my thoughts about books where others might read them.

I enjoy sharing the love of reading with so many amazing people. The book community is my life, basically, but I'm an introvert so I don't reach out as much as I could.

I love reading other blogger's reviews and opinions on books.

All the book recommendations!!!

My TBR list has skyrocketed into the thousands since I began blogging. It's going to take me 1,000 years to read all the books I want to read and the list will never end. I probably shouldn't enjoy that, but you can never have too many books.
I love all the challenges, read-a-thons, and read-a-longs there are in the book community.

I love seeing people get excited about books, whether it be in text or video. Some bloggers also have youtube accounts and I just love seeing people's faces light up when they talk a book they really want to read.
I really like doing the weekly 'memes'. Is that what they are called? Stacking The Shelves, Friday Reads, etc. I could talk about books all day.

Just having a place to escape to when I feel the need to get some book feels off my chest makes me very happy.
I just love books, okay?