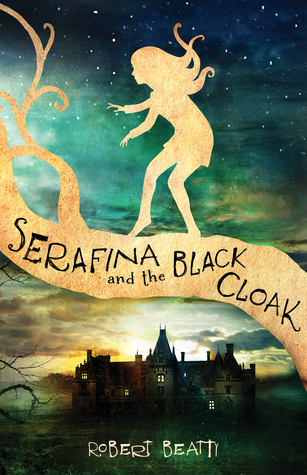 Title: Serafina and the Black Cloak
Author: Robert Beatty
Series: Serafina #1
Publisher: Disney-Hyperion
Publication Date: July 14, 2015
Genre: Middle-grade, historical, horror
Length: 293 pages
Source: Borrowed
This New York Times Bestseller is a spooky mystery-thriller about an unusual girl who lives secretly in the basement of the grand Biltmore Estate.
"Never go into the deep parts of the forest, for there are many dangers there and they will ensnare your soul."
Serafina has never ahd a reason to disobey her pa and venture beyond the grounds of Biltmore Estate. There's plenty to explore in the shadowed corridors of her vast home, but she must take care to never be seen. None of the rich folk upstairs know that Serafina exists; she and her pa, the estate's maintenance man, have secretly lived in the basement for as long as Serafina can remember.
But when children at the estate start disappearing, only Serafina knows who the culprit is: a terrifying man in a black cloak who stalks Biltmore's corridors at night. Following her own harrowing escape, Serafina risks everything by joining forces with Braeden Vanderbilt, the young nephew of Biltmore's owners. Braeden and Serafina must uncover the Man in the Black Cloak's true identity before all of the children vanish one by one.
Serafina's hunt leads her into the very forest that she has been taught to fear. There she discovers a forgotten legacy of magic that is bound to her own identity. In order to save the children of Biltmore, Serafina must seek the answers that will unlock the puzzle of her past.
Serafina is a child of the night. Secretly living in the basement of the Biltmore with her father, she becomes a shadow that is never seen. But when she witness a man in a black cloak take a child into the basement and almost becomes a victim herself, she decides that it is time to step out of the shadows and warn someone. She befriends the young nephew of the Vandebilt's and together they try to find the 'rat' that is plaguing the Biltmore Estate.
Parts of this book were downright terrifying. Beatty did an excellent job of making this a spooky novel. There are kidnappings, cemeteries, and more to send chills up the spine. At the same time there is a unique element of mystery as we learn about Serafina's beginnings and wonder what she really is; a normal little girl or an actual creature of the night.
I've always wanted to visit the Biltmore Estate and since I'm not sure if that will ever happen I was eager to read a story set in the largest house in America. I was only further intrigued and my wish to visit the grand house was renewed. Maybe someday!