Story time happens several times a day every day in this house. We read at least one new book as well as several books that we re-read almost every single day. We visit the library every week for story time and load up with books and we also find ebooks through Netgalley and Amazon to read. Less often we find some great children's books at stores and thrift stores.
Sometimes I have an opinion on these books and sometimes I don't but I wanted to share some of the newer books with everyone. I know there has to be at least a few of you looking for great new picture books for their little ones.
Netgalley Roundup
Disclaimer: I received these 3 ebooks for free from Netgalley in exchange for my honest opinions.
Title: Too Many Carrots
Author: Katy Hudson
Publisher: Capstone Young Readers
Publication Date: Feb. 1, 2016
Synopsis:
Rabbit has too many carrots, which take over his house. When he tries to move in with his friends, more chaos ensues. Will Rabbit learn to change his selfish ways?

My Thoughts:
Rabbit likes carrots so much that he collects them. But he has become quite the hoarder and the carrots fill his house, making it uncomfortable to live in. He then looks for somewhere new to live and takes advantage of his friends' generosity.
The adorable illustrations are full of details that really add to the story. I think the amount of detail, as well as the themes, make this more suitable for 3-6 years old children.
I think this is a great book to teach children about how being selfish and thoughtless affects others and also about sharing.
Title: Little Red
Author: Bethan Woollvin
Publisher: Peachtree
Publication Date: April 1, 2016

Synopsis:
On her way to Grandma's house, Little Red Riding Hood meets a wolf. Now, that might scare some little girls but not this one! She knows just what the wolf is up to, and shes not going to let him get away with it. In this updated fairy tale with a mischievous twist, talented newcomer Bethan Woollvin uses sly humor, striking visuals, and a dark irreverence to turn a familiar tale on it's head.

My Thoughts:
This classic tale is retold in a simple way with minimalist monochromatic illustrations. These large illustrations in black and white with bold and bright Little Red make this story easy to decipher even without reading the words.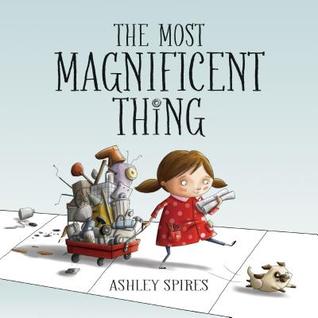 Title: The Most Magnificent Thing
Author: Ashley Spires
Publisher: Kids Can Press
Publication Date: Jan. 1, 2014
Synopsis:
Award-winning author and illustrator Ashley Spires has created a charming picture book about an unnamed girl and her very best friend, who happens to be a dog. The girl has a wonderful idea. She is going to make the most MAGNIFICENT thing! She knows just how it will look. She knows just how it will work. All she has to do is make it, and she makes things all the time. Easy-peasy!? But making her magnificent thing is anything but easy, and the girl tries and fails, repeatedly. Eventually, the girl gets really, really mad. She is so mad, in fact, that she quits. But after her dog convinces her to take a walk, she comes back to her project with renewed enthusiasm and manages to get it just right. For the early grades' exploration of character education, this funny book offers a perfect example of the rewards of perseverance and creativity. The girl's frustration and anger are vividly depicted in the detailed art, and the story offers good options for dealing honestly with these feelings, while at the same time reassuring children that it's okay to make mistakes. The clever use of verbs in groups of threes is both fun and functional, offering opportunities for wonderful vocabulary enrichment. The girl doesn't just make her magnificent thing--she tinkers and hammers and measures, she smoothes and wrenches and fiddles, she twists and tweaks and fastens. These precise action words are likely to fire up the imagination of youngsters eager to create their own inventions and is a great tie-in to learning about Science, Technology, Engineering, and Math.

My Thoughts:
She wants to build the most magnificent thing so she tries over and over and keeps getting it all wrong. But she persists and finally creates it!
This is an adorable and beautifully illustrated book with great messages. Don't give up! Be persistent! Try again! I love the combination of the less detailed backgrounds with the more detailed subjects on certain pages.