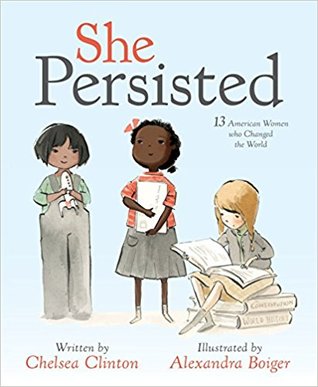 She Persisted: 13 American Women Who Changed the World
by Chelsea Clinton
Illustrated by Alexandra Boiger
Published by Philomel Books
Published on May 30, 2017
Length: 32 pages
Literary Awards:
Goodreads Choice Award Nominee for Picture Books (2017)
Litsy Award for Picture Book (2017)
Synopsis:
Chelsea Clinton introduces tiny feminists, mini activists and little kids who are ready to take on the world to thirteen inspirational women who never took no for an answer, and who always, inevitably and without fail, persisted.
Throughout American history, there have always been women who have spoken out for what's right, even when they have to fight to be heard. In early 2017, Senator Elizabeth Warren's refusal to be silenced in the Senate inspired a spontaneous celebration of women who persevered in the face of adversity. In this book, Chelsea Clinton celebrates thirteen American women who helped shape our country through their tenacity, sometimes through speaking out, sometimes by staying seated, sometimes by captivating an audience. They all certainly persisted.
She Persisted is for everyone who has ever wanted to speak up but has been told to quiet down, for everyone who has ever tried to reach for the stars but was told to sit down, and for everyone who has ever been made to feel unworthy or unimportant or small.
With vivid, compelling art by Alexandra Boiger, this book shows readers that no matter what obstacles may be in their paths, they shouldn't give up on their dreams. Persistence is power.
This book features: Harriet Tubman, Helen Keller, Clara Lemlich, Nellie Bly, Maria Tallchief, Claudette Colvin, Ruby Bridges, Margaret Chase Smith, Sally Ride, Florence Griffith Joyner, Oprah Winfrey, Sonia Sotomayor -- and one special cameo.
My Thoughts:
She Persisted is a beautifully illustrated and empowering picture book filled with 13 American women who have helped change and shape the world we live in today. From Harriet Tubman to Oprah Winfrey - and a few lesser known entities in between - each of these women have gone beyond the barriers set before them and persisted in reaching their dreams.
I personally love collections of influential people but this is the first time I've come across one in picture book form for children and I'm so happy it exists. This is the perfect addition to any little girl's library. What better way to show your child that they too can reach their dreams if only they persist!