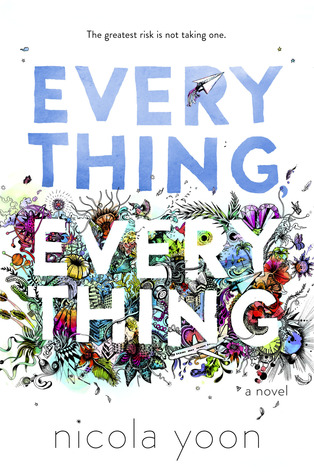 Title: Everything, Everything
Author: Nicola Yoon
Publisher: Delacourte Books for Young Readers
Publication Date: September 1, 2015
Genre: Young Adult, Contemporary, Romance
Length: 307 pages
Literary Awards:
Goodreads Choice Award Nominee for Debut Goodreads Author, and for Young Adult Fiction (2015)
Soaring Eagle Book Award (2016)
Milwaukee County Teen Book Award Nominee (2017)
Missouri Gateway Readers Nominee (2017)
Pennsylvania Young Readers' Choice Award Nominee for Young Adult (2017)
Evergreen Teen Book Award Nominee (2018)
Synopsis:
My disease is as rare as it is famous. Basically, I'm allergic to the world. I don't leave my house, have not left my house in seventeen years. The only people I ever see are my mom and my nurse, Carla.
But then one day, a moving truck arrives next door. I look out my window, and I see him. He's tall, lean and wearing all black--black T-shirt, black jeans, black sneakers, and a black knit cap that covers his hair completely. He catches me looking and stares at me. I stare right back. His name is Olly.
Maybe we can't predict the future, but we can predict some things. For example, I am certainly going to fall in love with Olly. It's almost certainly going to be a disaster.
My Thoughts:
Can we just start off with saying that the synopsis for this book is just terrible. Perhaps it's because this is not my typical type of read and that definitely does not appeal to me at all. That synopsis makes me wonder why I read the book in the first place.
The reasons I did?
- I like to read the book before watching the movie
- I found it secondhand for around 50 cents
- The formatting makes it a super quick read
- It fit into the criteria for a book challenge I'm doing
I actually ended up really enjoying this. It was one of those cute books filled with book references and with a quick burn romance that has some major issues that you can't help but get sucked into til it's resolved. It did get a little rediculous, cliche, and was totally predictable basically all the way thru, but there was something simple and appealing about it.
It's also a bit eye opening to mental health and disorders and how extreme they can be and how far people to go to keep their children safe. Helicopter parenting gets a bad rap these days but apparently you can take it harmful extremes.
Maybe Netflix will add the movie some day so I can actually watch it.

My Rating: 4 stars