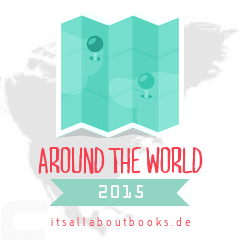 This challenge is just for fun and can be used as motivation to read more books with diverse settings.
There are mini challenges that seem like a lot of fun to attempt such as reading a book for each continent and reading a book for each state in the US but I'm not going to make any of them a priority. I will go back at the end of the year and see if I've completed any of them, though.
I started something similar to this on my own at the beginning of 2014 but ended up forgetting all about it. This year, I hope to keep up with it and see what my map looks like at the end of the year.
Hmm. I wonder why my locations aren't showing on this map. Anyone know?
Locations I have visited in 2015 via literature:
As of October 23rd, I have been to:
Long Island, NY, USA (We Were Liars)
Milton, UK (North and South)
Waingunga River, India (The Jungle Book)
Kansas, USA (The Wonderful Wizard of Oz)
Frisco, CA, USA (Dorothy and the Wizard of Oz)
Orlando, FL, USA (Paper Towns)
Denver, Colorado, USA (The Death Cure)
Rome, Italy (The Mark of Athena)
Romania (Silver in the Blood)
Asheville, North Carolina (Serafina and the Black Cloak)
London, England (Library of Souls)
San Diego, California (In the Shadows of Blackbirds)
Atlanta, Georgia (The Walking Dead)
Arizona (The Map to Everywhere)
Chicago (Behind the Canvas)
Mini-challenge progress:
*Continents visited*
*United States*
California
Florida
Kansas
Colorado
Georgia
Arizona
Illinois