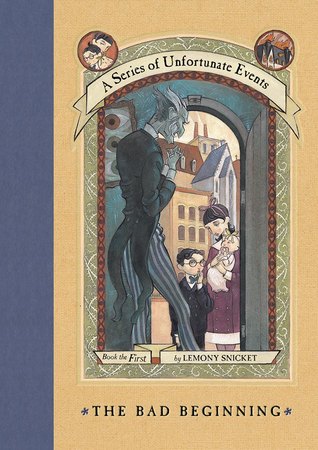 Title: The Bad Beginning
Author: Lemony Snicket
Series: A Series of Unfortunate Events
Publisher: Harper Collins
Publication Date: September 30, 1999
Genre: Children's / Middle-Grade
Length: 162 pages
Format: Hardcover
Source: Purchased
Goodreads | Amazon | B&N
Synopsis:
Dear Reader,
I'm sorry to say that the book you are holding in your hands in extremely unpleasant. It tells an unhappy tale about three very unlucky children. Even though they are charming and clever, the Baudelaire siblings lead lives filled with misery and woe. From the very first page of this book when the children are at the beach and receive terrible news, continuing on through the entire story, disaster lurks at their heels. One might say they are magnets for misfortune.
In this short book alone, the three youngsters encounter a greedy and repulsive villain, itchy clothing, a disastrous fire, a plot to steal their fortune, and could porridge for breakfast.
It is my sad duty to write down these unpleasant tales, but there is nothing stopping you from putting this book down at once and reading something happy, if you prefer that sort of thing.
With all due respect,
Lemony Snicket
My Thoughts:
I am starting this series for the first time (as an adult) and am very much enjoying it so far. I don't think there is a whole lot that I can say about this book since it's not very new and just about everyone has either read the books, seen the movie, or seen the newer tv show adaptation by now.
I will say that I thoroughly enjoy Lemony Snicket's writing style. This book was very engaging and keeps the reader entertained while also including lots of words that young readers may not know yet, and does so in a way that really sticks in your mind. You don't have to rush off to find your dictionary because the narrator tells you what that word means. Because of this, I think this series is perfect for young readers. It's actually a good read for any age group but I do love that young readers can learn new words from it. I already own a few books in the series but I am going to make a point to add the rest to my shelves so I can read them to my daughter and add them to her shelves when she is old enough.
My only issue with this book is how incredibly creepy it is that Olaf would try to marry a little girl and that all of the other adults are so naive and/or clueless that they wouldn't realize what's going on. I do think the way adults are portrayed in this series might be appealing to children but it really is quite rediculous.
The child abuse aspects do bother me but I also think that stories like this are an important way to build empathy in children. Abuse does happen and people, especially young people, need to be aware of that and learn from it.
My Rating: 4 stars