Can't Wait Wednesday is a weekly meme hosted by Tressa @
Wishful Endings
and spotlights the books we are excited about and have yet to read. This meme is based on Waiting on Wednesday which is hosted by Jill @ Breaking the Spine.
I can't wait for... The Crown's Fate by Evelyn Skye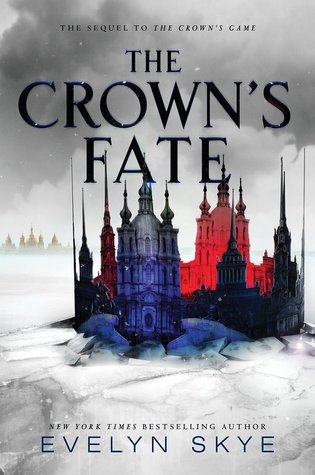 Expected Publication: May 16, 2017 by Balzer + Bray
Goodreads
Quick Synopsis:
Perfect for fans of Shadow and Bone and Red Queen, The Crown's Fate is the thrilling sequel to the New York Times bestselling The Crown's Game, an atmospheric historical fantasy set in Imperial Russia.
Russia is on the brink of great change. Pasha's coronation approaches, and Vika is now the Imperial Enchanter, but the role she once coveted may be more difficult--and dangerous--than she ever expected.
Why I Can't Wait:
I didn't jump right on the bandwagon when The Crown's Game started making waves in the bookish community and I regret it! After seeing nothing but amazing reviews, even from reviewers that tend to pick books apart, I gave it a chance and absolutely loved it. I wanted the sequel as soon as I finished and I still want it.
The full synopsis (on Goodreads) kind of spoils things about a certain someone that we thought was dead, but really, that just makes me want to read it even more. I'm really looking forward to the 'war' aspect that should be coming soon, too!
What book are you waiting for this week? Have you read The Crown's Game?