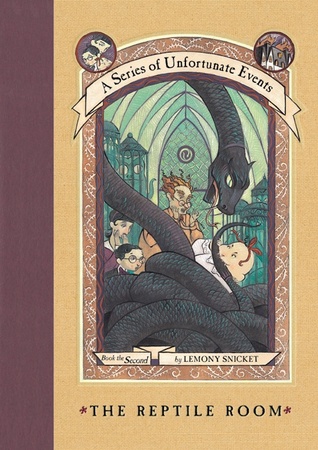 Title: The Reptile Room
Author: Lemony Snicket
Series: A Series of Unfortunate Events #2
Publisher: Scholastic, Inc.
Publication Date: August 30, 1999
Genre: Children's
Length: 192 pages
Format: Hardcover
Source: Borrowed
Dear Reader,
If you have picked up this book with the hope of finding a simple and cheery tale, I'm afraid you have picked up the wrong book altogether. The story may seem cheery at first, when the Baudelaire children spend time in the company of some interesting reptiles and a giddy uncle, but don't be fooled. If you know anything at all about the unlucky Baudelaire children, you already know that even pleasant events lead down the same road to misery.
In fact, within the pages you now hold in your hands, the three siblings endure a car accident, a terrible odor, a deadly serpent, a long knife, a large brass reading lamp, and the appearance of a person they'd hoped to never see again.
I am bound to record these tragic events, but you are free to put this book back on the shelf and seek something lighter.
With all due respect,
Lemony Snicket
My Thoughts:
In
The Reptile Room,
the three Baudelaire children go to live with Montgomery Montgomery, or as they call him, Uncle Monty. He was the relative they were supposed to go live with before Count Olaf fooled Mr. Poe into taking them elsewhere. Uncle Monty is a renowned herpetologist whom has a whole room dedicated to and filled with reptiles.
The children have learned not to trust people so easily and are quite hesitant to warm to their 'Uncle' but he proves to be an amazing sort of person. When his new assistant turns up, the children are horrified to see that it is none other than the despicable Count Olaf is disguise.
This sequel truly is unfortunate. I honestly wasn't expecting there to be a real death so soon in the story but I suppose it sets the precedent for what's to come (not that I know what that is yet.)
My Rating: 4 stars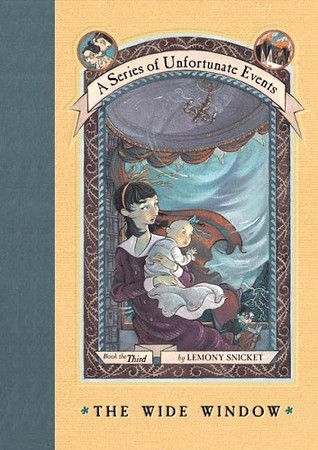 Title: The Wide Window
Author: Lemony Snicket
Series: A Series of Unfortunate Events #3
Publisher: HarperCollins
Publication Date: February 25, 2000
Genre: Children's
Length: 214 pages
Format: Hardcover
Source: Borrowed
Dear Reader,
If you have not read anything about the Baudelaire orphans, then before you read even one more sentence, you should know this: Violet, Klaus, and Sunny are kindhearted and quick-witted; but their lives, I am sorry to say, are filled with bad luck and misery. All of the stories about these three children are unhappy and wretched, and this one may be the worst of them all. If you haven't got the stomach for a story that includes a hurricane, a signalling device, leches, cold cucumber soup, a horrible villain, and a doll named Pretty Penny, then this book will probably fill you with despair. I will continue to record these tragic tales, for that is what I do. You, however, should decide for yourself whether you can possibly endure this miserable story.
With all due respect,
Lemony Snicket
My Thoughts:
In
The Wide Window,
the three Baudelaire orphans are taken to live with a distant Aunt Josephine whom resides on top of a hill overlooking Lake Lachrymose which is filled with leeches that will hunt down and devour anyone who has recently eaten. Aunt Josephine is afraid of nearly everything and ironically lives in a house basically hanging over a cliff.
When Captain Sham comes into the picture, the children are sure it must be Count Olaf but are unable to prove it.
I particularly enjoyed this sequel thanks to Miss Grammar Enthusiast; Aunt Josephine. I might have liked her less as a child if I had read these (because who wants their spoken grammar corrected all the time) but as an adult I can't help but love that you can actually learn from these books. I'm honestly not sure if I learned the proper usage of
its
and
it's
in school but I won't be making that mistake from now on (hopefully).
This sequel is just as grim as
The Reptile Room
in the end
and leaves us wondering what will become of the children in the next installment. So far, I'm thoroughly enjoying this morose series.
My Rating: 4 stars