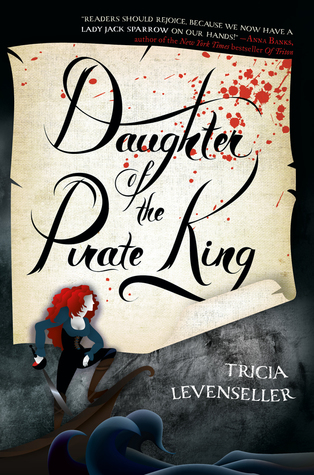 Title: Daughter of the Pirate King
Author: Tricia Levenseller
Series: Daughter of the Pirate King #1
Publisher: Feiwel & Friends
Publication Date: February 28, 2017
Genre: Young Adult, Fantasy, Pirates
Length: 320 pages
Format: Hardcover
Source: Purchased
Synopsis:
There will be plenty of time for me to beat him soundly once I've gotten what I came for.
Sent on a mission to retrieve an ancient hidden map--the key to a legendary treasure trove--seventeen-year-old pirate captain Alosa deliberately allows herself to be captured by her enemies, giving her the perfect opportunity to search their ship.
More than a match for the ruthless pirate crew, Alosa has only one thing standing between her and the map: her captor, the unexpectedly clever and unfairly attractive first mate, Riden. But not to worry, for Alosa has a few tricks up her sleeve, and no lone pirate can stop the Daughter of the Pirate King.
My Thoughts:
When Alosa is captured by the pirate captain of the Night Farer and his brother, Riden, she knows exactly what she is doing. Alosa plays her part well, making Draxen and his crew think that they will get a nice ransom from her father, the Pirate King. But she's aboard the Night Farer to find one of three pieces of the infamous map to the Sirens hidden hoard of treasure and she will use her special set of skills to make sure she gets it. But this mission turns out to be much more of a challenge than she expected.
This was a lot of fun to read. The idea of pirates just draws me in every time and this story features a female pirate captain. So much yes! Alosa is fantastically snarky, fiercely independent, and entirely badass despite that she plays the helpless, kidnapped princess.
I have a new OTP because Alosa and Riden's banter was very entertaining, even when it was kind of cheesy and their little budding romance was everything. Their chemistry was undeniable. Riden is one of those good-hearted male characters that you can't help but root for.
My only issue with this book is that it was so quick and so short. I felt like most of the story is taken up with the interactions between Alosa and Riden; not that I'm complaining. I really can't wait to see more of them in the sequel. I do think that if there had been a tad bit more adventure I would have been head over heels for it.
That being said, there was some very interesting surprises thrown in at the end that I really, really loved. I'm looking forward to continuing this series in all it's swashbuckling glory.
My Rating: 4.5 stars