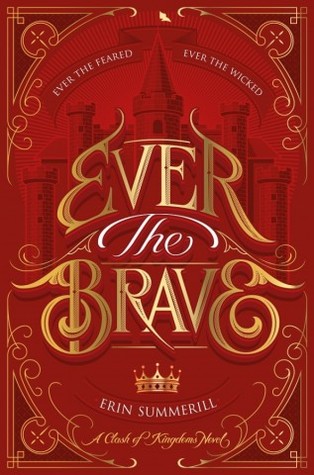 Ever the Brave
(Clash of Kingdoms #2)
by Erin Summerill
Published December 5th 2017
by HMH Books for Young Readers
Genre: Young Adult, Fantasy
Length: 454 pages
Goodreads | Amazon | B&N |
Book Depository
Synopsis:
Ever the Divided. Ever the Feared. Ever the Brave.
After saving King Aodren with her newfound Channeler powers, Britta only wants to live a peaceful life in her childhood home. Unfortunately, saving the King has created a tether between them she cannot sever, no matter how much she'd like to, and now he's insisting on making her a noble lady. And there are those who want to use Britta's power for evil designs. If Britta cannot find a way to harness her new magical ability, her life--as well as her country--may be lost.
The stakes are higher than ever in the sequel to Ever the Hunted, as Britta struggles to protect her kingdom and her heart.
My Thoughts:
I didn't quite love the first book, Ever the Hunted, and focused on the things that bothered me in my review, but I was still hopeful that the sequel would be worth reading. The cliffhanger made me want to continue this series and now that I'm finished, I'm glad I did. That ending created so much emotional conflict in this book that I kind of fell in love with the characters and couldn't wait to find out what would happen next.
While I felt that the first book was a bit slow and full of almost nothing but traveling scenes, the pacing and plot in Ever the Brave was quite fast and seamless. I did not fly through it because I had to take several breaks, but when I was reading it, I never wanted to put it down and loved every moment of it.
I really enjoyed the main character, Britta Flannery, who is more at home in the woods (the Evers) and is mostly considered an outcast among the townsfolk despite that her father was a well-known and loved bounty hunter for the king. She's tough, snarky, and more than capable at wielding a bow and arrow.
Cohen is her childhood friend whom was apprenticed to her father to become a bounty hunter as well.
In Ever the Brave, we have a new pov from that of the young King of Malam, Aodren, who sees Britta as more than just the standoffish girl who saved his life. The bond they now share thanks to the Channeler magic she used may be the cause, but a friendship starts between them nonetheless.
My only complaint this time around is the love triangle that left me madly guessing who would end up with who. It definitely built the tension and added drama but that's not what bothered me so much as 'love interest #1' having flashbacks that make him look bad and second guess himself. Right off the bat, it made him seem like he couldn't compete with 'love interest #2' and it made the narrative a little frustrating, but I will admit that I really enjoyed the story despite that and thought it was executed pretty well.
I'll also admit that the ending made my heart sing.
I just realized there is a third book coming out in 2019 called 'Once A King' but I'm so conflicted about it because I thought this was one of those happy endings that didn't need to be added to. Perhaps the author has more to tell about secondary characters and the future of the two countries. I guess we will see if my interest holds out that long.