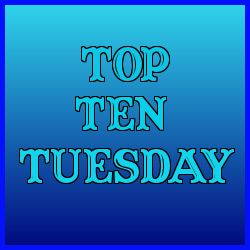 Top Ten Things On My Reading Wishlist
This topic could have gone any which way I wanted but I chose to make it a list of the top ten books on my wishlist. Physical books. Books that I've wanted for a long time and know I will love when I finally get a chance to read them.
Roverandom by J.R.R. Tolkien
(I only just recently heard about this children's story by Tolkien but I absolutely need to have it asap)


The Haunted House by Charles Dickens
(I'm a sucker for ghost stories and I'm a big fan of Dickens)


North and South by Elizabeth Gaskell
(I've been putting off watching the movie on Netflix for a couple of years now so I could read the book first but I just can't seem to find it anywhere. I'll have to find a way to purchase it off of the internet soon.)


Heap House by Edward Carey
(Sanne from BooksandQuills described this book as a mixture of Charles Dickens and A Series of Unfortunate Events. Sounds right up my alley.)


Miss Peregrine's Home for Peculiar Children
The Graphic Novel
by Ransom Riggs
(I loved the original and am currently reading the sequel.)
The Cuckoo's Calling by Robert Galbraith
(aka: J.K. Rowling. I can't pass up any of her writing)
20th Century Ghosts by Joe Hill
(I've been wanting to read this book since before it came out but my library never got it. It would make a perfect addition to my ghost story collection)
Roald Dahl's Book of Ghost Stories
(I know it's nowhere near Halloween but I can't help that these ghost stories are at the top of my wishlist)
The Neverending Story by Michael Ende
(I loved the movie when I was a kid so I'd love to read the book and have it in my collection.)
The Old Curiosity Shop by Charles Dickens
(I'm a bit of a sucker for Dickens and it's difficult to find his more obscure novels.)






I chose to do this topic this way instead of how everyone else has done it because I just couldn't think of enough right off the bat to make a small list.

Now that I've thought about it more and browsed through a couple of other lists, I still don't have any unique ideas of what I would want to see in a book besides more ghost stories or creepy scary stories. I'd like to see more serial killer stories but then again, I avoid the crime mysteries like they are the plague. Maybe I'll leave my comfort zone in the future but for now I can't stand reading about middle-aged adults with careers talking about suspects and laws.
I'd also love to see more graphic novels that aren't like mangas with the Japanese style drawings. I never could get into them easily but I love art and illustration.


-----------------




Feel free to comment if you've read any of these or have recommendations. Link to your Top Ten Tuesday and I'll come check out what books you added! :)