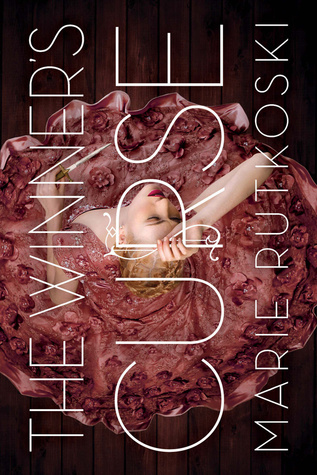 Title: The Winner's Curse
Author: Marie Rutkoski
Series: The Winner's Trilogy #1
Publisher: Farrar Straus Giroux
Publication Date: March 4, 2014
Genre: Young Adult, Fantasy
Length: 355 pages
Source: gifted / won
Winning what you want may cost you everything you love...
As a general's daughter in a vast empire that revels in war and enslaves those it conquers, seventeen-year-old Kestrel has two choices: she can join the military or get married. But Kestrel has other intentions.
One day, she is startled to find a kindred spirit in a young slave up for auction. Arin's eyes seem to defy everything and everyone. Follwoing her instinct, Kestrel busy him - with unexpected consequences. It's not long before she has to hide her growing love for Arin.
But he, too, has a secret, and Kestrel quickly learns that the price she paid for a fellow human is much higher than she ever could have imagined.
Set in a richly imagined new world, The Winner's Curse is a story of deadly games where everything is at stake, and the gamble is whether you will keep your head or lose your heart.
I'm probably going to have the unpopular opinion with this book but I was pretty bored with it.
First of all, I don't like the cover. To be more precise, I don't like the girl in a dress on the cover. The font and direction of the title is pretty neat but the girl on the cover turns me off and after reading it, I find that it doesn't give any hints to what this book is about at all. I was even asked by a stranger if I was reading some 'Fifty Shades' knock off. Yes, I was offended and said so but I totally understood where the stranger was coming from with that. It looks like a smutty fluff read more than it looks like a fantasy novel. Then again, after finishing the book, the girl in a dress does seem to fit the main character, Kestral.
Kestral's character seemed very flat to me. I couldn't relate or understand. I prefer bad ass female heroines in fantasy. We are introduced to the General's daughter, whom is named after a hunting hawk but would rather get married than follow in her father's footsteps. She talks her way out of physical situations that she put herself in.
Arin was more intriguing but we are given his position as spy (spoiler?) pretty quickly and therefore only have that storyline to look forward to... and later we are given small hints about who he was before becoming a slave.
I didn't really understand the relationship between Kestral and Arin. There didn't seem to be anything to allude to any feelings between them but they are practically the only two characters in the book. I felt as if I was supposed to just imagine some sort of romance between them. Not that a romance is what I was looking for. Far from it. I honestly could have understood some deep friendship blooming into a romance but we get neither and then all of a sudden they are expressing deep feelings of love for each other. I don't read enough romance to state exactly what is missing (Admiration? Tension?) but it definitely didn't jump out at me.
I prefer badass female heroines in fantasy and at least some action. I suppose I should have known from the cover that there would be more balls, dances, and descriptions of dresses than anything really interesting (to me). I'm ready to pass up any and every book with a girl in a dress on the cover from now on. I just keep having bad experiences with them.
I DID like the worldbuilding. The name for currency, the unique tile game 'Bite and Sting', and a few other things that stood out to me as unique to a fantasy world. I would have liked to read a little more about the Valorians and Herrani before the current state of affairs.
My Rating:
3 stars