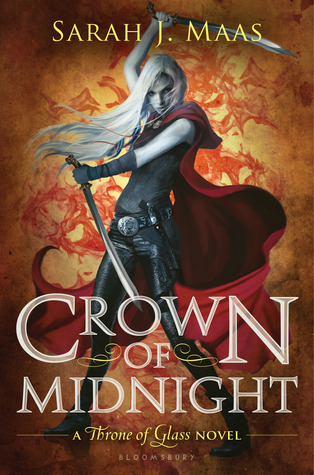 Title: Crown of Midnight
Series: Throne of Glass #2
Author: Sarah J. Maas
Genre: Young Adult Fantasy
Publisher: Bloomsbury USA Children's
Publication Date: August 2013
"A line that should never be crossed is about to be breached. It puts this entire castle in jeopardy--and the life of your friend."
From the throne of glass rules a king with a fist of iron and a soul as black as pitch. Assassin Celaena Sardothien won a brutal contest to become his Champion. Yet Celaena is far from loyal to the crown. She hides her secret vigilantly; she knows that the man she serves is bent on evil.
Keeping up the deadly charade becomes increasingly difficult when Celaena realizes she is not the only one seeking justice. As she tries to untangle the mysteries buried deep within the glass castle, her closest relationships suffer. It seems no one is above questioning her allegiances--not the Crown Prince Dorian; not Chaol, the Captain of the Guard; not even her best friend, Nehemia, a foreign princess with a rebel heart.
The one terrible night, the secrets they have all been keeping lead to an unspeakable tragedy. As Celaena's world shatters, she will be forced to give up the very thing most precious to her and decide once and for all where her true loyalties lie... and whom she is ultimately willing to fight for.
My Thoughts:
If I could give Crown of Midnight a 6 (or higher) on Goodreads, I would. I will have to go back and change my rating for Throne of Glass to a 4.5 just so it's known that this one is better. Heaps better. There was so much going on in this book that I struggled to summarize it without giving anything good away so I'm just going to skip that for now and continue to erratically gush about this book.
But first, if you haven't read Throne of Glass you probably shouldn't be reading this. It may get a slight bit spoiler-y in here.
One of my biggest problems with the first book was that we are introduced to the most notorious assassin in the realm and then we get absolutely no assassinating whatsoever. We hardly get anything that shows us how 'bad ass' Celaena is and when the time comes to prove her merit, she basically fails and is rescued by her friends. And yet, she still comes out on top which is great because she's our MC and we are all rooting for her no matter what.
So it's redeeming that we actually get some (ok, lots) of action in this sequel, even if it does have less direction. The mystery kept it exciting.
It's also satisfying to see the love triangle basically disappear and see Celaena and Chaol's relationship explored more. Dorian is a good character but I found myself rooting for Chaol in Throne of Glass. Chaol just seemed more worthy of Celaena. I don't usually gush over characters or entertain the 'book boyfriend' idea but I'm pretty sure Chaol would be the kind of guy I would fall for in real life. His character doesn't really change. He's still the fiercely protective and loyal man that everyone fell in love with in Throne of Glass.
Dorian, on the other hand, is no longer just a love interest and pompous ladies man. Instead, he is fleshed out a bit more and seems flawed in ways that kind of melt your heart a little. He is the complete opposite of his evil father and the way he stands up for his friends, as well as slaves that he has no ties to, really shows his good character.
I think the thing that I loved most about this book was the dark foreboding mystery of the castle and the evil within that looms around every corner. It read like a horror novel at times and I found myself anticipating the worst and even checking the dark corners of my room as I read in the middle of the night.
Overall, there were a lot of surprises, good and bad, and the plot sets off in an entirely new direction that has me eager to continue.
There were a few loose ends that seemed a little pointless and as if they could have been left out but perhaps they set the stage for new plots that we may encounter in Heir of Fire.
My Rating: 5+ stars
See my review of Throne of Glass here!