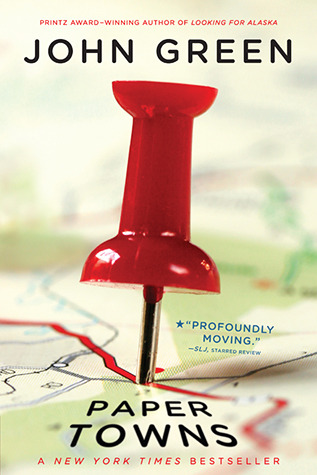 Title: Paper Towns
Author: John Green
Publisher: Speak
Publication Date: October 16, 2008
Genre: Young Adult, Contemporary
Length: 305 pages
Source: Borrowed
Anthony Award Nominee for Best Children's/Young Adult Novel (2009)
CORINE Internationaler Buchpreis for Young Adults (2010)
School Library Journal Best Book of the Year (2008)
Edgar Award for Best Young Adult (2009)
YALSA Teens' Top Ten (2009)
Abraham Lincoln Award Nominee (2011)
Quentin Jacobsen has spent a lifetime loving the magnificently adventurous Margo Roth Spiegelman from afar. So when she cracks open his window and climbs into his life - dressed like a ninja and summoning him for an ingenious campaign of revenge - he follows. After their all-nighter ends, and a new day breaks, Q arrives at school to discover that Margo, always an enigma, has now become a mystery. But Q soon learns that there are clues - and they're for him. Urged down a disconnected path, the closer he gets, the less Q sees the girl he thought he knew.
I've been meaning to read this book since I read 'Looking For Alaska' back in 2011 but never could get my hands on it. Now that the trailer for the movie adaptation is out I knew I had to jump on this before it became another book in a long list of books that I ended up watching before reading the book because there just wasn't any time to do so. I remember hearing about the 'wanderlust' that people got from this book and overall thinking it was an epic road trip adventure story. Either someone lied to me or I just heard what I wanted to hear and ignored the rest. This book is not an epic road trip adventure story. The road trip starts in the last 20% of the book!
I think this book had potential but fell short. The beginning was fun and interesting and I enjoyed reading Margo and Q's late night revenge exploits and I thought it was going to be this great clever mystery that we all figured out together but the middle of this book dragged on and on. Every time I thought Q was going to come across some amazing clue obvious only to him, he just didn't. I actually kind of worry about the obsessiveness that this kid has towards his neighbor. No wonder she always kept her shades closed. Creepy neighbor kid with an unhealthy crush. Ok, I'm just kidding. He wasn't that bad. But you have to wonder.
The road trip was short-lived and the ending was pretty disappointing. I don't know what I was expecting but it was more than just that. The upside to reading this was that I get to add a location to my Around the World Challenge map.
My Rating:
2 1/2 stars