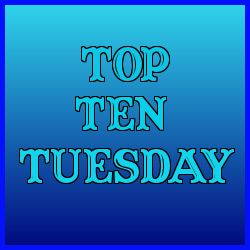 Last week was my first time participating on this blog and I misread the list of memes. I accidentally listed this week's meme last week. I don't know what else to do except do last week's meme this week. Bare with me! It won't happen again!
Here is this week's meme that I accidentally did last week:
and now for last week's meme.
Top Ten Words/Topics That Instantly Make Me Buy/Pick Up A Book
GHOSTS
I've always loved ghost stories. I read a ton of them as a kid (Mary Downing Hahn mostly) and it didn't stop there. I've continued to be enthralled by ghost stories. It helps that I've had a few experiences of my own. As an adult I read Susan Hill.
MYTHOLOGY
Let's face it. Any fantasy story with a dragon in it is just ten times better than any other. Sometimes dragons are the main theme such as in '
Seraphina
' by Rachel Hartman and
'Eragon'
by Christopher Paulini and sometimes they are just a small plot or part of books like
'A Song Of Ice and Fire Series'
by George R. R. Martin or
'The Hobbit'
by J.R.R. Tolkein.
WIZARDS, WARLOCKS, & OTHER MAGICAL PEOPLE
Yes, I'm talking about the
Harry Potter series by J.K. Rowling
. I can't think of any more at the moment but there are tons of fantasy novels where wizards and sorcerers are prominent characters.
If it's set anywhere from the 1600's to the 1900's, I want to read it. It doesn't matter if it's an Alison Weir novel about the Tudor's
(The Lady Elizabeth),
or novels about plagues and graverobbers (
The Dress Lodger
by Sheri Holman). I really love reading books set in past eras.
Any book having to do with Merlin, King Arthur, etc. I think they were on of my favorite movie genres as a kid (The Sword in the Stone, Merlin starring Sam Neil, etc) and now as an adult, I just want to read about it. A couple of examples are
'Gwenhwyfar: The White Spirit'
by Mercedes Lackey and
'Mordred, Bastard Son'
by Douglas Clegg.
CASTLES
I was obsessing over castles even before Harry Potter was written and published. I can remember one of my childhood favorites being
'The Castle In The Attic'
by Elizabeth Winthrop. Hogwarts fueled that love just as much as movies did. Still to this day, I want to live in or at least get to visit an English castle.
Is 8 enough? I was starting to get ideas for sub-categories of those that I listed so I decided to just stop there.