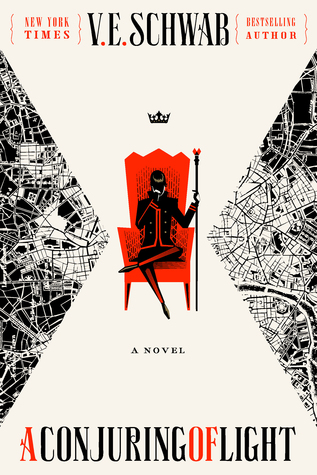 Title: A Conjuring of Light
Author: V.E. Schwab
Series: Shades Of Magic #3
Publisher: Tor Books
Publication Date: February 21, 2017
Genre: Fantasy
Length: 624 pages
Format: Kindle Edition
Source: Borrowed
Goodreads | Amazon | B&N
Synopsis:
Witness the fate of beloved heroes - and enemies.
The balance of power has finally tipped...
The precarious equilibrium among four Londons has reached its breaking point. Once brimming with the red vivacity of magic, darkness casts a shadow over the Maresh Empire, leaving a space for another London to rise.
Who Will Crumble?
Kell - once assumed to be the last surviving Antari - begins to waver under the pressure of competing loyalties. And in the was of tragedy, can Arnes survive?
Who Will Rise?
Lila Bard, once a commonplace--but never common--thief, has survived and flourished through a series of magical trials. But now she must learn to control the magic, before it bleeds her dry. Meanwhile, the disgraced Captain Alucard Emery of the Night Spire collects his crew, attempting a race against time to acquire the impossible.
Who will take control?
And an ancient enemy returns to claim a crown while a fallen hero tries to save a world in decay.
My Thoughts:
I felt like something had been severed deep inside of me when I finished this book. As if all of the magic that had built up within me as I read this trilogy had been doused. My Kindle is an '
Inheritor'
and it stole everything from me. I am the hollow reader. All that is left to do is to sit at the base of a tree in a lovely forest and let the world breathe in.
My only consolation at this moment is that I can read these books again some day and hope that the magic will find it's way back to me.
But on a less somber note, and with a plea to the book gods that I don't fall into a terrible hangover slump, I must say that this just may be the best book I've read so far this year. There are a few others right up there but right now, this is numero uno.
This trilogy, guys! I'm saving my money for these books in hardcover. Because I need them in my life always.
And because I just don't want to spoil the amazingness that is this finale, I'm just going to list a
few
several reasons why you should start this series.
Blood magic.
Four parallel Londons.
Magicians that can walk between worlds.
The coolest coat you will ever read (and dream) about.
The most badass characters ever.
Duels. Snark and sass.
Pirates and adventures.
Magical artifacts.
Darkness. So much darkness.
Death. And more death. (And that might be kind of spoiler-y but it's still all worth it).
I could go on but hopefully something in there has your attention.
Also, my two most favorite OTP's are in this trilogy and that's kind of crazy considering there is like zero romance until the end of this book (and it's so small and tame and made my life because I'm more into plot and worldbuilding than relationships and stuff).
Plus, literally all of the characters are amazing. I loved every single one of them down to the damn cat and even that evil evil shadow king. Plus Lila Bard is my spirit animal. And Kell is my precious cinnamon strudel. As is Holland. And Rhy. And Alucard.
Schwab is queen at characters. Hands down. She's my new fave and can I please meet her? I'll give away all my cookies for the chance.
And you probably get the point.
Also I'm tired so I'm going to go lay in bed and mull this over for the next few hours or forever and if only there were more hours in the day I'd start this trilogy all over again. Seriously.
Anoshe
My Rating:
All of the stars!