I received a free ecopy of this book from Netgalley and Chronicle Books in exchange for an honest review.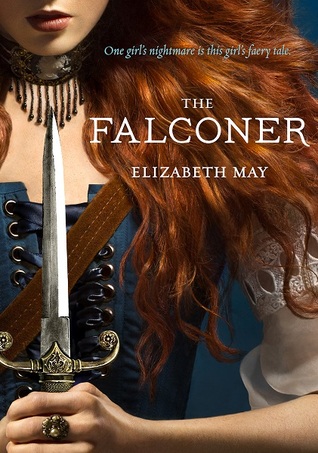 Title: The Falconer
Author: Elizabeth May
Series: The Falconer #1
Publisher: Chronicle Books
First published: September 19, 2013
Genre: Young Adult, Fantasy, Steampunk, Historical Fiction
Length: 386 pages
Format: ebook
Source: Netgalley
Synopsis:
She's a stunner.
Edinburgh, 1844. Eighteen-year-old Lady Aileana Kameron, the only daughter of the Marquess of Douglas, has everything a girl could dream of: brains, charm, wealth, a title -- and drop-dead beauty.
She's a liar.
But Aileana only looks the part of an aristocratic young lady. She's leading a double life. She has a rare ability to sense the sithichean--the faery race obsessed with slaughtering humans-- and, with the aid of a mysterious mentor, has spent the year since her mother died learning how to kill them.
She's a murderer.
Now Aileana is dedicated to slaying the fae before they take innocent lives. With her knack for inventing ingenious tools and weapons--from flying machines to detonators to lightning pistols--ruthless Aileana has one goal: Destroy the faery who destroyed her mother.
She's a Falconer.
The last in a line of female warriors born with a gift for hunting and killing the fae, Aileana is the sole hope of preventing a powerful faery population from massacring all of humanity. Suddenly, her quest is a lot more complicated. She still longs to avenge her mother's murder--but she'll have to save the world first.
The first volume of a trilogy from an exciting new voice in yound adult fantasy, this electrifying thriller combines romance and action, steampunk technology and Scottish lore in a deliciously addictive read.
My Thoughts:
Aileana Kameron saw the thing that killed her mother and she's been able to see the faeries ever since. Their deadly and she makes it her mission to destroy each and every last one of them. But she is restricted by the rules of propriety and society looks down upon every step she takes out of line. And when you're fighting for your life, you can't help but get a bit disheveled. Propriety takes a backseat to necessity though, as Aileana learns she is the only one left--the last Falconer--who can even attempt to destroy the fae before they destroy everyone she's ever known.
Aileana is a badass, don't-back-down kind of girl stuck in corsets and long skirts. She wants nothing more than to avenge her mother but she is stuck in the tedious trials of pretending to be normal among Edinburgh society. Her two main hobbies are inventing weapons and killing faeries with said weaponry. She even has her own pixie that darns her clothes in exchange for sips of honey.
Kieran MacKay is the handsome fae that has been training her as a Falconer for the past year. He flits in and out of her life, usually enticing her into a fight or challenging her. The tension between them is crazy good.
I loved that this book is such a collection of genres. There's fantasy, historical fiction, and romance, with steampunk thrown in to kick it up a notch. There's more action than anything and that's a big plus in my book.
There wasn't a whole lot to the plot in this book but I expect that's because it's a trilogy and there's a bigger picture to be considered. I'm also really peeved about the extremely abrupt ending. It made me feel like I literally didn't get a few pages that were supposed to be there (which is entirely possible since this was an e-arc). I'm definitely looking forward to continuing this series, though.
My Rating: 4 stars