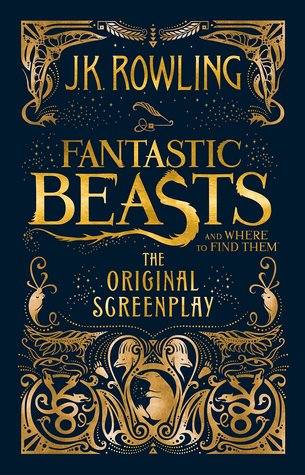 Title: Fantastic Beasts and Where To Find Them: The Original Screenplay
Author: J.K. Rowling
Publisher: Arthur A. Levine Books
Publication Date: November 18, 2016
Genre: Young Adult, Fantasy
Length: 293 pages
Format: Hardcover
Source: Purchased
Synopsis:
When Magizoologist Newt Scamander arrives in New York, he intends his stay to be just a brief stopover. However, when his magical case is misplaced and some of Newt's fantastic beasts escape, it spells trouble for everyone...
My Thoughts:
I've yet to see this movie even though I've been dying to. I'll skip boring you with the excuses why but know that it saddens me that I wasn't able to see this in theaters. Even more so now that I've read the screenplay.
I couldn't help but remark out loud that this was going to be a fun movie. Again, I'm incredibly sad that I haven't seen it yet. I've heard that it's basically word for word the same but I'm dying to see the visuals. I can't wait to see Newt chasing his Niffler and caring for all the creatures or Jacob's wonder at seeing all these fantastic beasts and magic.
I 100% wish this would have been an actual fiction novel, though. As amazing as it is to get new Wizarding World content, nothing is quite as good as a full, detailed story. Screenplays skip all the emotion.
I am so happy to see this world that I fell in love with as a child continuing, even if it isn't exactly in the way I had hoped.
My Rating: 5 stars