The Spiderwick Chronicles #1-5
by Holly Black & Tony DiTerlizzi
Publisher: Simon & Schuster Books for Young Readers
Genre: Juvenile / Middle-grade Fantasy
Source: all borrowed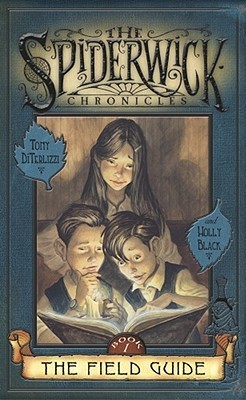 Title: The Field Guide
Publication Date: January 1, 2003
Length: 128 pages
Flicker Tale Children's Book Award (2005)
When the three Grace children -- Mallory, Jared, and Simon -- and their mom move into Aunt Lucinda's old house, readers know there's magic afoot. The kids uncover a nest of assembled junk, and on a visit to the secret library via the dumbwaiter, Jared finds a note describing "my secret to all mankind." After a few mysterious pranks that get blamed on Jared, the boy finally digs up the real prize: Arthur Spiderwick's Field Guide to the Fantastical World Around You. Fortunately enough, the kids meet one of the critters listed in the guide --a brownie named Thimbletack -- who makes it all "real" and helps provide the book's suspenseful conclusion: "Throw the book away, toss it in a fire. If you do not heed, you will draw their ire."
Title: The Seeing Stone
Publication Date: May 1, 2003
Length: 128 pages
The Grace kids are just beginning to get used to Aunt Lucinda's strange old mansion when Simon suddenly disappears. Jared and his sister have to rely on the help of a mischievous house boggart, a nasty bridge troll, and a loud-mouthed hobgoblin to get him back
.
Let the story of my niece and nephews be a warning. The more you know, the more danger you're in. And trust me, you don't want to meddle with the Little People. -- S.S.
Title: The Ironwood Tree
Publication Date: April 1, 2004
Length: 128 pages
First a pack of vile, smelly goblins snatch Simon. Then a hand of elves try to entrap Jared. Why is the entire faerie world so eager to get their hands on Spiderwick's Guide? And will the Grace kids be left alone, now that the Guide has mysteriously disappeared? Don't count on it.
Title: The Wrath of Mulgarath
Publication Date: September 7, 2004
Length: 146 pages
The final book in the Spiderwick Chronicles.
These are such short books and they are already over a decade old so I decided to just do a review on the entire series rather than each individual book.
This series was a ton of fun to read. The fantasy element was wonderful. There are plenty of mythical fairytale creatures in this series that are sure to delight readers of all ages.
I did feel like there was a lot of yelling from the mother in the first book. She seems angry at her kids all the time and dishes out punishments quite a bit. That really stood out for me in every book. The relationships between the family members are pretty prominent. Looking back on the entire series, it's more of a story about how a broken family comes together over something rather amazing. You can see how the sibling's relationships with each other change drastically from fighting and bickering to defending each other and working together.
The illustrations really make this series. DiTerlizzi did a wonderful job at making this story come to life with pictures. Some settings and creatures would have been difficult to picture without them, especially since these books are pretty light on descriptions.
I saw the movie adaptation years ago and am having a hard time getting my hands on it again so I cannot make detailed comparisons. The only thing I can't remember being in the movie is the quarry. It might be there, it might not. I honestly can't remember. I do believe that the movie did an excellent job of bringing this series to life.
I'd recommend this to any young reader looking for a fun adventurous story with magic, fairies, or mythical creatures.