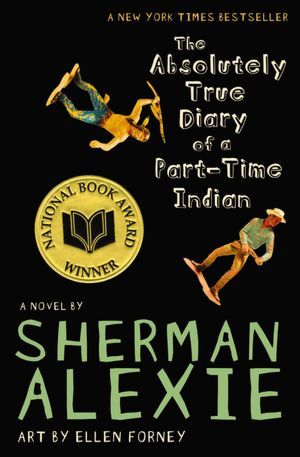 Title: The Absolutely True Diary of a Part-time Indian
Author: Sherman Alexie
Publisher: Little, Brown Books for Young Readers
Publication Date: September 12, 2007
Genre: Young Adult, Contemporary, Banned/Challenged Book
Length: 230 pages
Format: Paperback
Source: gifted
Literary Awards:
National Book Award for Young People's Literature (2007)
School Library Journal Best Book of the Year (2007)
American Indian Library Association Award
Florida Teens Read Nominee (2009)
Abraham Lincoln Award Nominee (2011)
Synopsis:
Bestselling author Sherman Alexie tells the story of Junior, a budding cartoonist growing up on the Spokane Indian Reservation. Determined to take his future into his own hands, Junior leaves his troubled school on the rez to attend an all-white farm town high school where the only other Indian is the school mascot.
Heartbreaking, funny, and beautifully written, The Absolutely True Diary of a Part-time Indian, which is based on the author's own experiences, coupled with poignant drawings by Ellen Forney that reflect the character's art, chronicles the contemporary adolescence of one Native American boy as he attempts to break away from the life he was destined to live.
My Thoughts:
Junior is a 14-year-old Native American living on the Spokane Indian Reservation with his mom, dad, and older sister. Life on the rez isn't ideal but it's what he is used to. He's used to everyone beating him up because he's smaller and weaker. He's used to being dirt poor. He's used to nearly every single Indian drinking their lives away. But then someone points out how smart he is and how he shouldn't give up hope and so he makes the difficult decision to go to an all-white school off the reservation. Trying to fit in at his new school and back at home where everyone thinks he's a traitor isn't easy, but Junior has a pretty good sense of humor and the hobby of drawing comics to deal with the hardships of life... and death.
This was the book I chose to read for Banned Books Week this year. I can see why this book is challenged (not that I would ever condone the banning of a book). There's some vulgarity, racist themes, and even a little anti-religion if you'd go as far as saying 'Goddammit' is anti-religious. But really, it's nothing I wouldn't expect from a boy of this age in the past decade or so.
I actually really enjoyed this even though reading about basketball bored me a bit. The writing style is very engaging and humorous. The comics tossed in are funny and add a little something visual to the story. They really brought the teenage boy 'out' of this book.
There are a few ups and downs in this kid's life, with several deaths, the loss of his best friend, and going to an all white school, but his optimism and hope were refreshing.
Would I recommend this? Definitely. As long as you don't mind a little foul language and talk of masturbation. It's eye-opening to the lives of Native Americans, poverty, death, and teenage boys in general. This is a coming-of-age story that might be better appreciated by young adults but is still worth reading.
My Rating: 4 stars