I received a free eARC of this book from Sky Pony Press in exchange for an honest review.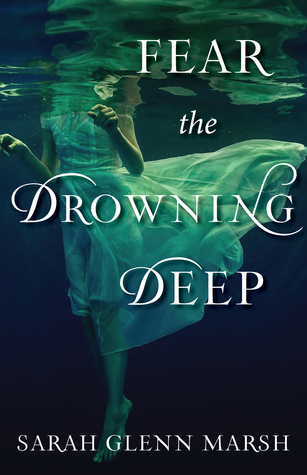 Title: Fear the Drowning Deep
Author: Sarah Glenn Marsh
Publisher: Sky Pony Press
Publication Date: October 4, 2016
Genre: Young Adult, Historical Fiction, Paranormal
Length: 310 pages
Format: ebook
Source: publisher
Synopsis:
Witch's apprentice Bridey Corkill has hated the ocean ever since she watched her granddad dive in and drown with a smile on his face. So when a dead girl rolls in with the tide in the summer of 1913, sixteen-year-old Bridey suspects that whatever compelled her granddad to leap into the sea has made its return to the Isle of Man.
Soon, villagers are vanishing in the night, but no one shares Bridey's suspicions about the sea. No one but the island's witch, who isn't as frightening as she first appears, and the handsome dark-haired lad Bridey rescues from a grim and watery fate. The cause of the deep gashes in Fynn's stomach and his lost memories are, like the recent disappearances, a mystery well-guarded by the sea. In exchange for saving his life, Fynn teaches Bridey to master her fear of the water -- stealing her heart in the process.
Now, Bridey must work with the Isle's eccentric witch and the boy she isn't sure she can trust -- because if she can't uncover the truth about the ancient evil in the water, everyone she loves will walk into the sea, never to return.
My Thoughts:
Bridey hasn't gone near the ocean since she saw her grandfather walk into the sea and drown. Living on the Isle of Man makes the sea very difficult to avoid but Bridey manages, especially after a drowned girl is found and others start to go missing. But when it's time for her to find a job and help out her family, she ends up working for the local witch who sends her down to the shore where she comes across an unconscious young man. Girls from town keep disappearing, Bridey keeps seeing strange things in the sea, and her mother keeps painting sea creatures that may or may not be real. Bridey is determined to figure out what is happening and how to stop it, but the whole town may be working against her.
I was really expecting this to be a very dark, atmospheric read, and it is in some sense but at the same time perhaps it wasn't dark enough for my tastes. That in no way means that I disliked it. I really enjoyed the characters, setting, and plot.
Set in the early 1900's on the Isle of Man in a small town called Port Coire, this story has a very close-knit but isolated community feel to it. When a dead body washes ashore, there are no policeman or investigators to take charge of the situation and so Bridey, her family, and the rest of the town are left to figure out what is going on all on their own.

There's a small town mentality that is prevalent in this story and is especially shown in the labeling of the town recluse as a witch. Bridey goes to work for her and is then subjected to the harassment of those that think she is now a witch as well. This quickly builds up to where no one believes her when she says she has seen strange creatures in the sea.
The characters, other than the not-so-friendly townspeople, mainly revolve around Bridey's family, friends, and the boy she finds on the shore and names Fynn. There is a bit of light romance but mostly Bridey's attention stays with the love and safety of her family which was a little new for me as I seem to read a lot about broken families. It was a nice change.
The atmosphere of the book does grow darker as it progresses and while I thought the ending was a little muddled, it was still entertaining and left it open to your own interpretation of what the future might hold for Bridey.
This is probably the perfect read for anyone who wants something a little dark and atmospheric for this spooky season but might not want to delve into the traditional horror since this is more of a mystery revolving around mythological creatures.
My Rating: 3.75 - 4 stars