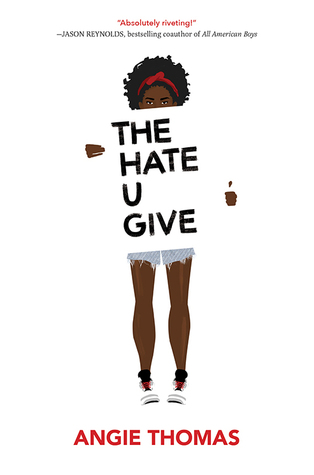 Title: The Hate U Give
Author: Angie Thomas
Publisher: Balzer + Bray / HarperTeen
Publication Date: February 28, 2017
Genre: Young Adult, Contemporary
Length: 444 pages
Format: Hardcover
Source: Borrowed
Boston Globe-Horn Book Award for Fiction (2017)
Synopsis:
Sixteen-year-old Starr Carter moves between two worlds: the poor neighborhood where she lives and the fancy suburban prep school she attends. The uneasy balance between these worlds is shattered when Starr witnesses the fatal shooting of her childhood best friend Khalil at the hands of a police officer. Khalil was unarmed.
Soon afterward, his death is a national headline. Some are calling him a thug, maybe even a drug dealer and gangbanger. Protesters are taking to the streets in Khalil's name. Some cops and the local drug lord try to intimidate Starr and her family. What everyone wants to know is: what
really
went down that night? And the only person alive who can answer that is Starr.
But what Starr does or does not say could upend her community. It could also endanger her life.
My Thoughts:
"Sometimes you can do everything right and things will still go wrong. The key is to never stop doing right."
This is the heartbreaking yet hopeful story of Starr, an intelligent young girl who witnesses the murder of her childhood best friend at the hands of a police officer. Starr ends up caught between doing right by her friend and protecting herself from the spotlight that this death brings about. It is more than that, though. It is about family, friends, and community. It is about speaking up for what is right.
Ok, yes, this book is sooo hyped up right now but I believe it deserves all of that hype and more. This is one of those books that everyone needs to read or at least know about. It is so incredibly relevant and gives us a glance into the Black Lives Matter movement and police brutality against POC.
I don't really read contemporaries but I knew from the get-go that I had to read this. It is books like this that remind us that our lives could be worse. That someone else out there in the world has it worse than us. More so--and I think this is a very important topic right now--it gives us a new perspective and shows us our privilege and, hopefully, how to learn from that.
The characters in this book are written so well. I could absolutely feel every bit of emotion from Starr as well as her parents, siblings, and friends. This story is so real and the emotions were so raw. I will admit that this made me tear up more than once and that hasn't happened to me in a while.
Also, I loved how, despite how long this book is and the plethora of characters, they all seemed to have an important role in this story. Every character had their own little backstory. Starr was our star but every other character shone just as brightly. Even the ones that I really just wanted to give a good smack at times.
There's so much more to say about this book but I'm nearly at a loss for words how to better summarize this story and how to express how I felt about it. All I can say is that I think everyone with at least a smidge of empathy should read this. I don't think it's for everyone since it's such a controversial subject, but I hope that it opens a few eyes to the injustice in this world; especially in the U.S.
I would not recommend this if you cannot handle excessive amounts of swearing. There's a lot of it.
My Rating: 5 stars