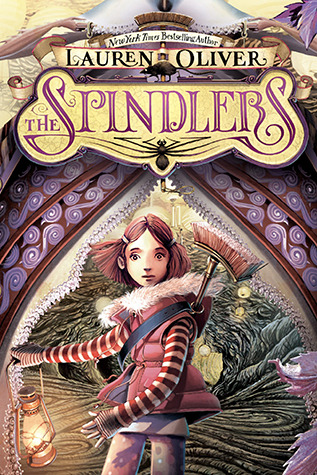 Title: The Spindlers
Author: Lauren Oliver
Publisher: Harper Collins
Publication Date: September 13, 2012
Genre: Middle Grade, Fantasy
Length: 246 pages
Format: Hardcover
Source: Borrowed
SYNOPSIS:
Evocative of
Alice in Wonderland
, this novel from
New York Times
bestselling author Lauren Oliver is a bewitching story about the reaches of loyalty and the enduring power of hope.
Looking across the breakfast table one morning, twelve-year-old Liza feels dread wash over her. Although her younger brother, Patrick, appears the same, Liza knows that he is actually quite different. She is certain that the spindlers—evil, spiderlike beings—came during the night and stole his soul. And Liza is also certain that she is the only one who can rescue him.
Armed with little more than her wits and a huge talking rat for a guide, Liza descends into the dark and ominous underground to save Patrick's soul. Her quest is far from easy: she must brave tree-snakes, the Court of Stones, and shape-shifting scawgs before facing her greatest challenge in the spindlers' lair, where more than just Patrick's soul is at stake.
MY THOUGHTS:
At first, I thought this was going to be another story with fairies, brownies, and more importantly, changelings, but I was wrong. The main character, Liza, is positive her brother's soul has been stolen by the Spindlers because he just isn't acting the same. This very much made me think he was a 'changeling' at first so when Liza 'falls' into the world 'Below', I thought it was definitely going to be some fairy world with the sidhe and whatnot. Instead, we are introduced to a whole slew of interesting new characters and creatures ranging from talking animals to talking dreams.
Liza goes off on this unfortunate adventure to 'Below' to save her brother's soul from the Spindlers, which are described as spiders with human hands at the end of all 8 spindly legs. She is shown the way and helped by a talking rat called Mirabella, whom she detests at first but by the end of the story, they are very good friends. I thought the moral to the story would fall more along the lines of family but all I got out of it was that you shouldn't judge a book by it's cover. I'm sure a lot of you book lovers would agree with me when I say that that is a great moral to include in any book.
Overall, I thought it was very adventurous, something I look for and love in any book. I would recommend to any child that can handle the idea of giant spiders that steal children's souls and any adult looking for a fun light read.
My Rating:
3.5 stars