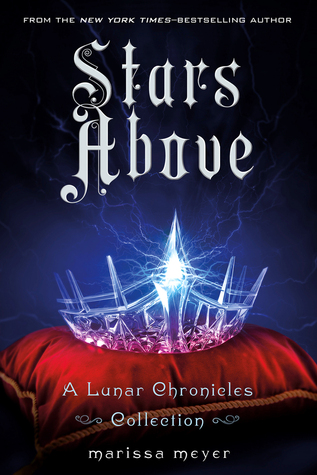 Title: Stars Above
Author: Marissa Meyer
Series: The Lunar Chronicles #4.5
Publisher: Feiwel & Friends
Publication Date: February 2, 2016
Genre: Young Adult, Sci-Fi, Retelling
Pages: 369
Source: Overdrive for Libraries
The universe of the Lunar Chronicles holds stories --and secrets-- that are wondrous, vicious, and romantic. How did Cinder first arrive in New Beijing? How did the brooding soldier Wolf transform from young man to killer? When did Princess Winter and the palace guard Jacin realize their destinies?
--
The Little Android: A retelling of Hans Christian Andersen's "The Little Mermaid," set in the world of The Lunar Chronicles.
Glitches: In this prequel to Cinder, we see the results of the plague play out, and the emotional toil it takes on Cinder. Something that may, or may not, be a glitch...
The Queen's Army: In this prequel to Scarlet, we're introduced to the army Queen Levana is building, and one soldier in particular who will do anything to keep from becoming the monster they want him to be.
Carswell's Guide to Being Lucky: Thirteen-year-old Carswell Thorne has big plans involving a Rampion spaceship and a no-return trip out of Los Angeles.
The Keeper: A prequel to the Lunar Chronicles, showing a young Scarlet and how Princess Selene came into the care of Michelle Benoit.
After Sunshine Passes By: In this prequel to Cress, we see how a nine-year-old Cress ended up alone on a satellite, spying on Earth for Luna.
The Princess and the Guard: In this prequel to Winter, we see a game called The Princess.
The Mechanic: In this prequel to Cinder, we see Kai and Cinder's first meeting from Kai's perspective.
Something Old, Something New: In this epilogue to Winter, friends gather for the wedding of the century...
My Thoughts:
If you haven't read any of the Lunar Chronicles, STOP READING THIS! Because these short stories are based off of the first 4 books, you might get spoiled if you read any further. Go read the books. They are all fairytale retellings told in a futuristic world. They are fast-paced, fun, and have lots of cute couples to "ship".
Stars Above is a collection of short stories, mostly prequels, that give us a deeper look into the lives of the characters we have grown to love throughout the Lunar Chronicles and tell more of the characters beginnings. How Cinder came to be on Earth, how Winter ends up being 'crazy', how Wolf becomes Alpha... All the little questions we might have had while reading the books that were only touched on are now expanded and explained.
I'm not going to talk about every single story. Some are worth noting, others were just okay. I think my least favorite was Carswell's Guide to Being Lucky.
I really liked The Queen's Army, getting a glimpse of what it was like for Wolf to become Alpha of his pack.
The Little Android was the 'black sheep' of this collection. It definitely fits the bill but while all the other's were extensions of The Lunar Chronicles and the characters we know and love, The Little Android seemed to be it's own little story within the same world. I only vaguely connected The Little Mermaid to it but it was still a fun read.
The last story, Something Old, Something New, was something I didn't know I needed when I finished Winter. I thought Winter had a pretty satisfactory ending since it gave a pretty good idea what the future held for everyone. This was a nice little addition to that though. We get to revisit all our favorite characters and see what else is in store for their futures.
Overall, while I felt like it wasn't necessary to read these shorts, it was nice to get the full story on things that were only mentioned in the series books.