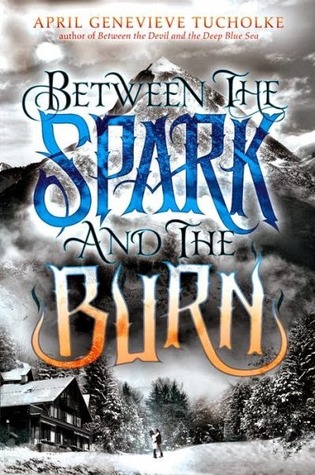 Title: Between the Spark and the Burn
Series: Between #2
Author: April Genevieve Tucholke
Publisher: Dial Books
Publication Date: August 14, 2014
Genre: Young Adult, Paranormal Romance
Length: 320 pages
Source: borrowed
The conclusion to Between the Devil and The Deep Blue Sea, this gothic thriller romance with shades of Stephen King and Daphne du Maurier is a must-read for fans of Beautiful Creatures and Anna Dressed in Blood.
Freddie once told me that the Devil created all the fear in the world.
But then, the Devil once told me that it's easier to forgive someone for scaring you than for making you cry.
The problem with River West Redding was that he'd done both to me.
The crooked-smiling liar River West Redding, who drove into Violet's life on summer day and shook her world to pieces, is gone. Violet and Neely, River's other brother, are left to worry - until the catch a two a.m. radio program about strange events in a distant mountain town. They take off in search of River but are always a step behind, finding instead frenzied towns, witch hunts, and a wind-whipped island wit the thrum of something strange and dangerous just under the surface. It isn't long before Violet begins to wonder if Neely, the one Redding brother she thought trustworthy, has been hiding a secret of his own...
Violet White is tired of waiting for River to return. After hearing strange reports on a midnight radio station, she decides that she wants to go look for him and Brodie, River's and Neely's crazy red-headed brother. With Neely, her brother, Luke, and their neighbor, Sunshine in tow, Violet heads out on a wild goose chase to find a sea-god, a dream-stealing boy, and missing children in hopes that Brodie or River might be the cause of all the madness.
I felt like this book just didn't know what it wanted to be; horror story, romance, maybe even a mystery... It couldn't make up it's mind so it tried to be a little of all of those things and succeeded in being few or none of them. I feel as if I cannot put this book into any one category besides 'YA'.
But that's not to say that the book wasn't worth reading. I really enjoyed the prose.
The author has a very 'dream-like' way of writing. Like a stream of consciousness that was easy to fly through and feel like I wasn't actually reading, but instead, dreaming. Almost like poetry at times.
I'd be willing to try anything else this author writes if only to get more of her beautiful prose.
We get a better feel of Neely in this second book. It's been a while since I read 'Between the Devil and the Deep Blue Sea' but from what little I remember, Neely was just the cheerful brother that shows up near the end of the book. I didn't quite like the relationship that grew between him and Violet (and this might be a small spoiler so... SPOILER ALERT) but if there's one thing I hate more than a love triangle, it's a love triangle between brothers.
Another little thing that bothered me about this book was Luke and Sunshine. They played a pretty vital role in the development of the first novel but I felt like they shouldn't have even been in this book, at least not after Violet decides to go look for River. They could have stayed home and it wouldn't have been any different. They go along for the ride but neither contribute to any character or plot progression and then they're sent off in some other direction entirely pointless to the story and then pop up at the end.
Then there's the matter of Violet's grandmother Freddie's journal entries. I found that they served little to no purpose except to delve deeper into something that was mentioned in the first book but still had little to do with anything in either book except. The only purpose I could glean from them was to show the reader that Violet just might not be the air-headed, love-struck girl that she seems to be around River but instead is being brainwashed and manipulated and is stuck in the same exact story as her grandmother.
Overall, while I did enjoy the author's beautiful writing style, I feel as though this duology is severely lacking and could have been better rounded out with more horror elements and a little less romance.
My Rating: