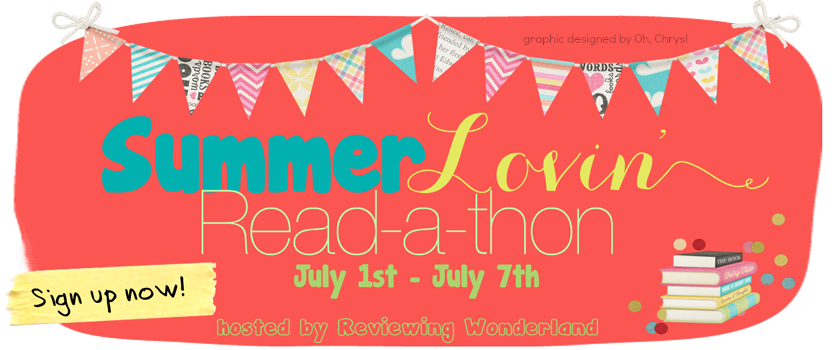 You can spend the week reading as much as you want at whatever pace you'd like. There will be daily challenges for awesome

prizes

and opportunities to get points toward the Grand Prize Packs. T
he week will end with a 24-hr marathon read-a-thon! Twitter parties, mini-challenges, games, prizes given EVERY HOUR, and more chances to get points toward the Grand Prize Packs.
Sign-ups

will be open through July 6th. I'm in, are you?!
__________________________________
______________________________________
July 15 - 21
A read-a-thon specifically for booktubers, this read-a-thon was created by Raeleen from
padfootandprongs07
and Ariel Bissett from youtube.
While I don't 'booktube' (mostly because I do better behind a camera than in front of it) I will still be participating in this read-a-thon because I love the booktube community, I enjoy watching their videos, and I would love to participate in a read-a-thon with people that I feel I have a long distance (and somewhat imagined) friendship with.
To make things a bit more fun, they have created some challenges for everyone to partake in (not required).
CHALLENGES:
1) read an average of 300 pages a day
2) read a book with over 500 pages
3) re-read one book
4) finish a series/trilogy
5) read a book that's been on your shelf forever
6) listen to an audiobook
7) read a classic
There is no official sign-up page. If you are a booktuber and want to participate, you can make a video stating that you are and put it in the 'responses' section to
Raeleen's video
.
______________________________________________
July is going to be SUPER busy for me.
Some of you are aware that the second
Camp NaNoWriMo
is in July and since I didn't participate in April or November of last year, I plan on writing in July. Instead of doing the whole 50,000 words, my goal is to write at least 25,000. I'm hoping that isn't too steep considering that I will be participating in 3 read-a-thons and partaking in the rest of 'life' that month. I've participated in two read-a-thons in the past this year and have deduced that I can read for about 3 hours a day. I have no idea what happens to the other 21 hours (besides sleeping, eating, driving, working, cooking, etc) but I feel as if that is going to be cut down to 1 1/2 hours a day for reading and 1 1/2 hours a day for writing. I'm really going to have to prioritize. Not to mention that running a blog is not quick and easy, no matter how much scheduling ahead you do.
We still have a week left before the Summer Lovin' read-a-thon starts so I don't know what book I'll be reading on the 1st.
Here is a list of books I hope to get around to reading for these 3 read-a-thons.
The Bridge of Dead Things by Michael Gallagher
(ebook that I need to read/review but set aside so I could finish my library books)
The Curious Incident of the Dog in the Night-time by Mark Haddon
(my book jar chose this one months ago but I still haven't gotten around to it)
Eleanor & Park by Rainbow Rowell
(ebook)
What Really Happened in Peru by Cassandra Clare & Sarah Rees Brennan
(ebook)
(and I'll add to this later)
BOOKTUBE-A-THON CHALLENGES:
Read 300 pages a day: I'm okay with reading about 200 pages a day but 300 would be pushing it with how much else I need to get done.
Read a book with over 500 pages: Even though it doesn't have to be read in just one day, I just really don't think I'm up for this one.
Re-read one book: I did this for the Bout Of Books read-a-thon but I really want to re-read The Hobbit before the year is over so maybe I'll get to it this summer.
Finish a series/trilogy: This one depends on whether the 6th book in The Secrets of the Immortal Nicholas Flamel Series by Michael Scott which I have on hold at the library comes in.
Read a book that's been on your shelf forever: Hmm. I'm going to have to go take a look at my shelves for this one
Listen to an audiobook: I recently downloaded The Raven Boys by Maggie Stiefvater so that is perfect. It will be my first audiobook ever.
Read a classic: I've had A Room With A View by E.M. Forster on my shelves forever and it's a classic that I've been meaning to read lately. It's short, too, so that will be perfect to fit in.