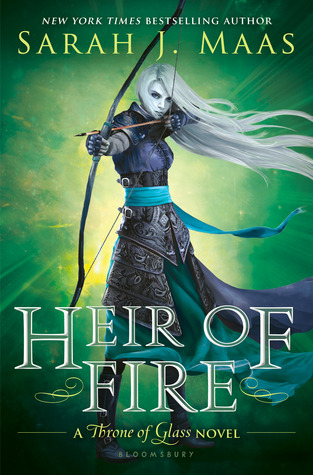 Title: Heir of Fire
Series: Throne of Glass #3
Author: Sarah J. Maas
Genre: Young Adult, Fantasy
Publisher: Bloomsbury USA Children's
Publication Date: September 2, 2014
Celaena Sardothien has survived deadly contests and shattering heartbreak--but at an unspeakable cost. Now she must travel to a new land to confront her darkest truth... a truth about her heritage that could change her life--and her future--forever.
Meanwhile, brutal and monstrous forces are gathering on the horizon, intent on enslaving her world. To defeat them, Celaena must find the strength to not only fight her inner demons but to battle the evil that is about to be unleashed.
The king's assassin takes on an even greater destiny and burns brighter than ever before in this follow-up to the
New York Times
bestselling
Crown of Midnight.
Having traveled to Wendlyn under the guise to assassinate a royal family, Celaena is found by Rowan, a fae warrior, under the demands of his queen. His task; to force Celaena to embrace and control her magic and heritage. Meanwhile, back in Rifthold, Chaol, the captain of the guard, puts off his promise to return to Anielle.
There isn't really any good way to summarize this book without giving something away so hopefully you have read Throne of Glass and Crown of Midnight if you are reading this. If not, go do that. Seriously, this series is awesome and you should read them. I will still try to avoid spoiling anything, though!
I enjoyed the change of scenery in this book. I really loved
Crown of Midnight
and everything that happened but I knew there was only so much more plot that could take place in the glass castle without becoming repetitive. Traveling to a new part of this world really helped put the world into perspective and showed that it wasn't just Adarlan affected by the evil King.
Though the worldbuilding in Wendlyn is pretty lacking, Celaena's story while there is not disappointing. I loved that we were able to see our beloved badass MC get pushed around and basically shown that no matter how good she is as a mortal assassin, it is nothing compared to the power she holds inside of her.
Which brings me to Rowan. I don't know how to feel about this new character. In Throne of Glass and Crown of Midnight I was rooting for Chaol so I was kind of groaning at the idea of a new love interest. Not that he is. Spoilers! I didn't really like his character at first but I think I warmed to him a little bit. The guy is a tattoo artist and overall practically more badass than Celaena.
I loved all of the new characters and perspectives.
I've seen a lot of hate for the Manon chapters but I really loved them. Manon is a villain that I can really root for. She was an entirely different and refreshing character. The King of Adarlan is our main villain but we hardly get any evildoing or perspective on it in the first two books. The Manon chapters take us deeper into the evil that is going on and the battle that is to come. I kind of fell in love with her and her wyvern, Abraxos and I can't wait to read more about them.
And while I'm on the subject of 'evil', I must mention that it gets darker and spookier in
Heir of Fire.
Spookier probably isn't the best word for it but apparently my mental thesaurus isn't working right now.
Celaena has her work cut out for her with all this evil though.
And then, oh my bob, that ending! Sarah J. Maas really has me wrapped up in this series. I wish I had started it earlier but then I wouldn't have been able to read these sequels one after the other!