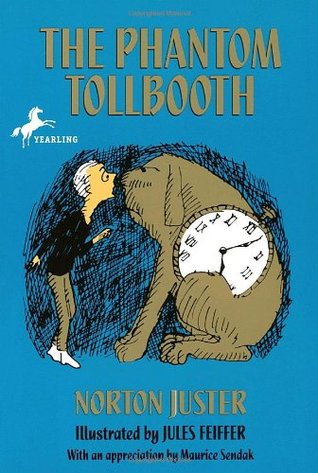 Title: The Phantom Tollbooth
Author: Norton Juster
Illustrator: Jules Feiffer
Publisher: Random House Bullseye Books
Publication Date: 1961
Pages: 256
Source: My TBR Pile
Synopsis:
Milo mopes in black ink sketches, until he assembles a tollbooth and drives through. He jumps to the island of Conclusions. But brothers King Azaz of Dictionopolis and the Mathemagician of Digitopolis war over words and numbers. Joined by ticking watchdog Tock and adult-size Humbug, Milo rescues the princesses of Rhyme and Reason, and learns to enjoy life.
My Thoughts:
Milo is a pretty bored and boring kid who has no idea what to do with himself or his time and seems like he has no imagination whatsoever. At least until a package arrives for him with instructions to build a tollbooth, and he sets off in a little car that magically takes him on his way to Dictionopolis. On the way he runs into many strange characters from a watchdog named Tock with a built in clock that goes 'tickticktick', a beetle like creature called the Humbug, a Which that everyone believes to be a witch, and many more. He meets King Azaz of Dictionopolis and is thrust into a quest to find the princesses, Rhyme and Reason.
This is a wonderfully imaginative and wordy book. I loved reading it even if it felt a bit slow at times. I loved all the wordplay, the descriptions, and the quirky characters. I didn't enjoy the illustrations, though. They were very sketchy with lots of cross-hatching and were hard to make out at times. Everything is a little 'out there' and there is no real direction until there's need to find the princesses but this book was fun to read out loud.
I can't help but think that this would be the perfect book for any young reader who is looking to widen their vocabulary, perhaps loves the dictionary, or is just looking for a fun and random story.