LazyDayLit's Children's Book Review Roundup features some of the latest picture books that we have bought, borrowed, or received and read to our little one. It is a way to share books with other parents with little ones.
-----------
Library Roundup


Title: Bear Sees Colors
Author: Karma Wilson
Illustrator: Jane Chapman
Publisher: Margaret K. McElderry Books
Publication Date: September 23, 2014
Synopsis:
Explore colors with Bear in the first of a new concept picture book series from the New York Times bestselling creators of 'Bear Snores On'.
Colors, colors everywhere!
Can you find colors just like bear?
Karma Wilson's playful text and Jane Chapman's adorable illustrations creatively introduce colors to the youngest Bear fans, who will delight in discovering a rainbow of fun.
Bear and his friend Mouse go for a walk and come across many colors as he meets up with his other friends!
This is an adorably illustrated and interactive picture book. I love how the plain white pages give a hint of what color Bear is going to see, such as a red ladybug flying around or yellow galoshes on his friend Badger. The colorful pages are wonderful and full of color; the sky, the plants, the birds, and other objects. The last page filled with a rainbow of colors, animals, and objects allows the little readers to point out all the colors they just learned.
----------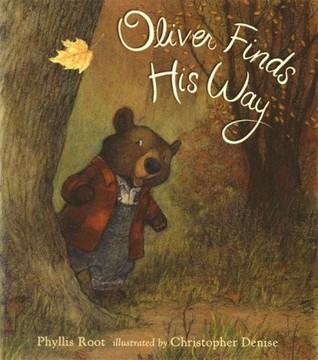 Title: Oliver Finds His Way
Author: Phyllis Root
Illustrator: Christopher Denise
Publisher: Candlewick
Publication Date: August 26, 2002
Synopsis:
While Mama hangs the wash out
and Papa rakes the leaves,
Oliver chases a big yellow leaf...
Oliver is so intent on following a blowing autumn leaf that he doesn't even notice that he's lost his way. All alone at the edge of the woods, he starts to cry. He cries and cries - but he is still lost. And so he rubs his nose and tries to think...
With characteristic warmth, humor, and a firm faith in the power of pluck, Phyllis Root quietly captures a big, defining moment in the world of a small child.
My Thoughts:
Oliver is playing outside while his Mama hangs the laundry and his Papa rakes leaves. He chases a big yellow leaf as it floats in the breeze. He follows the leaf around a bush, under a tree, and into the woods. When he looks up, his house and parents are gone. He gets frightened so he runs but can't seem to find his way out of the forest. After thinking a while, he roars at the top of his lungs! When he hears his parents roaring in return he runs towards their voices and back into their arms.
The illustrations in this books are lovely. The dark earthy tones really capture the autumn season. The scenery in this book is gorgeous. Oliver is one lucky bear. He inhabits a storybook world that I'd love to live in; a comfy little house settled high on a hill surrounded by fields, meadows, and forests.
The story is cute and lets the reader know that it's okay to call for help when you need it!