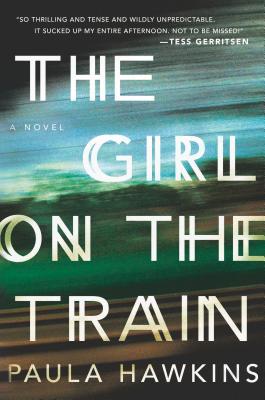 Title: The Girl On The Train
Author: Paula Hawkins
Publisher: Riverhead Books
Publication Date: January 13, 2015
Source: Overdrive
Pages: 325
Goodreads Choice Award for Mystery & Thriller (2015)
Waterstones Book of the Year Nominee (2015)
A debut psychological thriller that will forever change the way you look at other people's lives.
Rachel takes the same commuter train every morning. Every day she rattles down the track, flashes past a stretch of cozy suburban homes, and stops at the signal that allows her to daily watch the same couple breakfasting on their deck. She's even started to feel like she knows them. "Jess and Jason," she calls them. Their life --as she sees it--is perfect. Not unlike the life she recently lost.
And then she sees something shocking. It's only a minute until the train moves on, but it's enough. Now everything's changed. Unable to keep it to herself, Rachel offers what she knows to the police, and becomes inextricably entwined in what happens next, as well as in the lives of everyone involved. Has she done more harm that good?
Compulsively readable, The Girl on the Train is an emotionally immersive, Hitchcockian thriller and an electrifying debut.
This wasn't my usual type of read but I've seen it recommended so many times and it is being made into a movie so I thought I'd give it a chance. I'm glad it wasn't a really long read because I probably would have hated finishing it. I finish books I start 98% of the time so I would have felt obligated to finish it and that would have made me hate it more. I wanted to know what happened though. Who killed who. I suppose it would be liked more by people who enjoy crime mysteries. I enjoy leaving my comfort zone from time to time and crime mysteries are a rarity on my shelves.
This is the kind of book that has no likable characters. The MC, Rachel, is a drunk who gets herself into all sorts of ridiculous situations. I just kind of wanted to slap her and tell her to get over it all, mind her own business, and get on with her life. None of the other characters are much better. There's something to seriously dislike about all of them.
The thing I like most about this book is that I'm done with it, can mark it off on all those list challenges, and know not to spend money to see the movie. I will no longer wonder what all the hype is about. It's been said that it's the 'Gone Girl' of the year but I haven't read or watched that yet so I can't make a comparison.
I'm probably being a little too harsh, though. The Girl on the Train wasn't bad. It was written well and I'd actually give it more than of a 3.5 which is a step up from my usual "It was ok" rating for books that aren't terrible but don't hold my interest well. It's just one of my least favorite books that I've read so far this year.