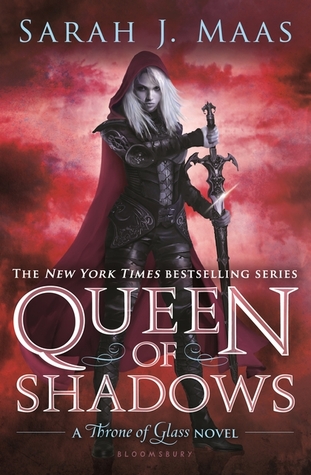 Title: Queen of Shadows
Series: Throne of Glass #4
Author: Sarah J. Maas
Publisher: Bloomsbury USA Children's
Publication Date: September 1, 2015
Genre: YA, Fantasy
Pages: 648
Goodreads Choice Awards for Young Adult Fantasy and Science Fiction (2015)
The queen has returned.
Everyone Celaena Sardothen loves has been taken from her. But she's at last returned to the empire - for vengeance, to rescue her once-glorious kingdom, and to confront the shadows of her past...
She has embraced her identity as Aelin Galathynius, Queen of Terrasen. But before she can reclaim her throne, she must fight.
She will fight for her cousin, a warrior prepared to die for her. She will fight for her friend, a young man trapped in an unspeakable prison. And she will fight for her people, enslaved to a brutal king and awaiting their lost queen's triumphant return.
The fourth volume in the New York Times bestselling series continues Celaena's epic journey and builds to a passionate, agonizing crescendo that night just shatter her world.
My Thoughts:
Aelin Galathynius, previously known as Celaena Sardothian, has returned to Rifthold to confront her old master and save her cousin, Aedian, from the clutches of the evil king and a death sentence.
That's about all I can summarize without spoiling anything.
And because I'm probably not the best at not spoiling things, if you haven't read Crown of Midnight yet, you probably shouldn't read this. Just fyi.
It's been a week or so since I finished this and I am still struggling for the words to say. All I can really do without giving too much away is gush about this series. I flippin' love these books. I cannot believe that I waited so long to start Throne of Glass but I'm honestly glad because it allowed me to read the first four books one after the other (with a week or two between depending on when I got the next book). I think if I had started Throne of Glass when it first came out I would have probably lost interest from the year long wait before the next book came out. This way I was able to get a huge portion of the story. Now I only have to wait six months before 'Empire of Storms' comes out and that is going to kill me. And a year or so after that for the final book!
Let's talk a little about the characters.
- We have all our lovely favorites from the first book; Celaena/Aelin, CHAOL (I think it's mandatory to put his name in CAPS because CHAOL), and Prince Dorian.
- Then we have Rowan and Aedian from Heir of Fire, as well as Manon and her Thirteen. I'll admit that I wasn't a huge fan of Rowan in the beginning but he has grown on me. And Manon? I have a wicked lady crush on Manon. I know, it's weird. I've seen nothing but hate for Manon but I loved her chapters in Heir of Fire and couldn't wait for the next. She totally appeals to my dark side. She's like Harry Potter's 'Snape'. Evil but still redeemable. (I'm not sure if that's a good comparison but I'm going with it.)
- And then we have a few new and very important characters: Arobynn (we've at least heard of him in previous books), Lysandra, and Nesryn Faliq. We were in need of a couple more badass female characters and we got them. Oh, and Elide. I didn't like her character much but am eager to see what happens with her in the next book.
'Crown of Midnight' is my favorite in this series so far but 'Queen of Shadows' is a close second despite there being a few things that I didn't thoroughly enjoy.
- I thought that Rowan was a bit disappointing in this book. He went from being this badass warrior fae prince to basically just a love interest drooling over Aelin. I swear he took more hits and got hurt more than anyone in this book (well, excepting one person but I'm not going to spoil anything too much). He seemed like such a weakling towards the end of the book and that bothered me. I guess it's easier to deal with that since he pretty much heals any wound super quickly, but still.
- I felt like most interactions with Chaol were just a subtle way to come to some sort of closure between him and Aelin so he is no longer needed in future books. BUT CHAOL! I know. We all love him and it's hard to deal with that

. [CROWN OF MIDNIGHT SPOILERS!!! READ AT OWN RISK!!!]

I knew that Aelin wouldn't be able to look at him the same no matter what after their big 'break up' and he isn't truly gone but I can see how he could possibly be just a passing mention in future books and that is hard to deal with. While Nesryn Faliq seems like a pretty cool character, she is obviously just there for Chaol's character development.
- Another small problem I had with QOS was with Manon. She has quickly become my favorite in this series but when I started reading about her in HOF, I was thinking, "Hurray! We get a badass VILLAIN and get to read from her perspective for once! Woohoo!" We still get that, but on a much less evil scale. We're not really reading from the villain's point of view now. Just another supporting character.
- And the king? Ugh. Ugh. Ugh. Why give us someone to hate for FOUR books and then take that away?! Why, Sarah?! Are we supposed to just magically pull some hatred out of thin air for someone new-ish this close to the end of the series?!
And because that's actually a lot of things to dislike about this book, I feel like I need to list some of the things that I loved about it now.
- Agree to disagree if you must, but all that tension between Aelin and Rowan was kind of hot. Some of it was cheesy but there's definitely something building there.
- Hints at Lysandra and Aedian becoming a thing. Or a tease thing. Whatever. I ship it.
- That Manon and Aelin showdown! I think that was my favorite part of Queen of Shadows.
- Lysandra being a total badass babe! Can't really give details on that...
- Kaltain (I hope I'm spelling that correctly...). We all hated you in Throne of Glass but I want to hold you like the precious little wicked thing that you are.
- That's probably enough. I don't want to give anything away!
Overall, while there are a few things to dislike about this book (as shown in many of the reviews on Goodreads!) it is still a pretty awesome book and a lot of edge of your seat stuff happens. With nearly 700 pages of action it's got to be good, right?! I personally haven't read a fantasy like this in quite some time and am thoroughly engrossed by it.