I received a temporary ecopy of this book from Netgalley in exchange for my honest opinion.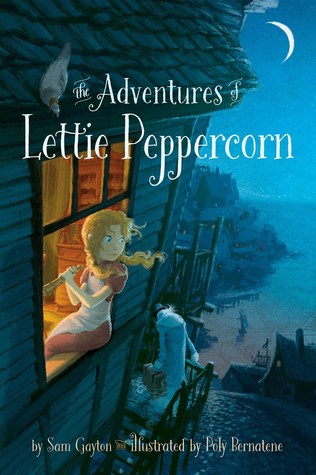 Title: The Adventures of Lettie Peppercorn
Author: Sam Gayton
Publisher: Margaret K. McElderry Books
Publication Date: February 2, 2016
Genre: Middle grade Fantasy
Length: 304 pages
Source: Netgalley
Synopsis:
An alchemist peddles a new magical invention and the key that could unlock Lettie Peppercorn's family secrets in this quirky tale of self-discovery, family, and friendship.
Lettie Peppercorn cannot go outside. Ma told her so right before Ma disappeared forever. So Lettie's house is on stilts, and she is stuck with only the wind and a pigeon for a friend. Nothing exciting has ever happened to her until the night a strange merchant appears.
He claims to be an alchemist--the greatest that ever lived--and he is here to sell Lettie his newest invention. It's an invention that could change Lettie's life and the world forever. An invention called snow.
But snow is not the only secret he holds. The alchemist knows where Lettie's Ma is. And Lettie will do anything to get Ma back even if it means risking her own life.
Join the brilliant and resourceful Lettie Peppercorn as she sails across the world to reunite her family and discover the truth about herself.
My Thoughts:
Lettie Peppercorn is a 12 year old landlady of the White Horse Inn who has never stepped foot outside of her house. Her Ma, who disappeared when she was a baby, told her not to in a note flown in by her current best friend, Periwinkle the pigeon. Her only other friend is the Wind. Her Da spends all his time in taverns drinking and gambling away the inn's earnings. And so Lettie lives a rather uneventful life making tea for her room renters until the day an alchemist comes to the inn and tries to sell her something. Something so beautiful and rare that her renters, Walrus and Goggle, will do anything to get their hands on it. Once Lettie realizes that the alchemist knows something about her mother she goes after him with the help of her brand new friend, Noah, with Walrus and Goggle close at their heels.
Lettie finds herself on a journey to find her ma, make real friends, and discover things about herself that she never thought was possible.

The Adventures of Lettie Peppercorn is full of lessons, magic, and colorful characters. This imaginative story will delight middle grade readers! I enjoyed every moment of it! There aren't many illustrations but they are just as magnificent as the cover and portray the story just as I saw it in my head.

The characters in this book are fantastic. They are all interesting, down to Lettie's pigeon friend. Gayton has created a cast of characters that I won't soon forget. They are so vibrant that I can easily see this as an animated film!

There are a few things that I didn't exactly love about the story. For instance, I started out believing this is a fantasy world unconnected to our own but then the author mentions Jesus, the author Ovid, and locations such as Bavaria. That is all well and good but how would Jesus's existence be known in this world? We start out the story on an island called Albion which immediately made me think of the game Fable. While I loved the story, the small inconsistencies bothered me enough that I couldn't give it a full five stars.