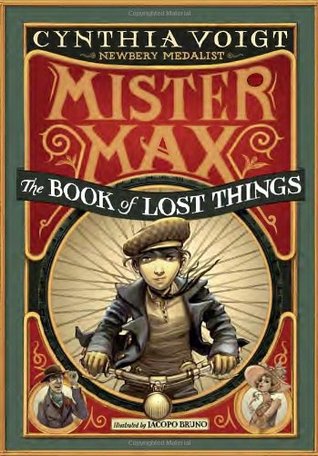 Title: The Book of Lost Things
Author: Cynthia Voight
Series: Mister Max #1
Publisher: Alfred A. Knopf
Publication Date: September 10, 2013
Genre: Middle Grade, Mystery
Pages: 374
Source: Netgalley
Max Starling's theatrical father likes to say that at twelve a boy is independent. He also likes to boast (about his acting skills, his wife's acting skills, a fortune only his family knows is metaphorical), but more than anything he likes to have adventures. Max Starling's equally theatrical mother is not a boaster but she enjoys a good adventure as much as her husband. When these two disappear, what can sort-of-theatrical Max and his not-at-all theatrical grandmother do? They have to wait to find out something, anything, and to worry, and, in Max's case, to figure out how to earn a living at the same time as he maintains his independence. This is the first of three books, all featuring the mysterious Mister Max.
Max Starling's parents are actors and he has grown up watching them, helping with the sets for their theater, and acting a few minor roles himself when needed. When his parents receive an invitation to start a theater in India, they jump at the chance. They even secure a third ticket for the boat ride so Max can join them. But when Max shows up to the docks, the ship they are supposed to set sail on is nowhere to be seen and neither are his parents. After asking around, he finds that the ship was never there in the first place. So where are his parents? Were they given the wrong ship name? Was it all a ruse? Were they kidnapped?
Max goes home and enlists the help of his librarian grandmother to help sort out what happened but neither can figure it out. His father did always say that Max needed to be more independent and so Max sets about trying to find any odd job that will help him buy his groceries and pay his tutors.
This was a fun little middle-grade mystery. Max, who ends up taking the name, Mister Max, to avoid being sent off to an orphanage despite that his grandmother lives next door, takes on a number of odd jobs to keep his independence. Most of these jobs revolve around some sort of mystery but he just doesn't see himself as a detective so he cleverly starts to call himself a "solutioneer".
Max, being the son of two very theatrical people, naturally takes on a new persona for each of the jobs he takes. He plays a role for each and it almost always seems to serve him well. It was fun to see that all those little jobs and little mysteries all led up to one bigger mystery. The bigger picture.
I think my only problem with this book was that it was a bit slow with a lot of dry dialogue. I also kept expecting the parent's disappearance to be a big part of the story but it really didn't seem to be at all. To be honest though, it was not very entertaining for me so I most likely will not continue with this trilogy.
I think this would be a great read for young mystery lovers.