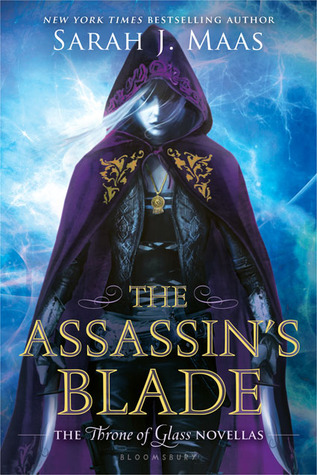 Title: The Assassin's Blade
Author: Sarah J. Maas
Series: Throne of Glass #0.1-0.5
Publisher: Bloomsbury Children
Publication Date: March 4, 2014
Genre: Young Adult, Fantasy
Pages: 448
Source: Overdrive for Libraries
Goodreads | Amazon | B&N
Synopsis:
Contains all five novellas.
Celaena Sardothien is Adarlan's most feared assassin. As part of the Assassin's Guild, her allegiance is to her master, Arobynn Hamel, yet Celaena listens to no one and trusts only her fellow killer-for-hire, Sam. In these action-packed novellas - together in one edition for the first time - Celaena embarks on five daring missions. They take her from remote islands to hostile deserts, where she fights to liberate slaves and seeks to avenge the tyrannous. But she is acting against Arobynn's orders and could suffer an unimaginable punishment for such treachery. Will Celaena ever be truly free? Explore the dark underworld of this kick-ass heroine to find out.
My Thoughts:
We return to Erilea and learn more about Celaena Sardothien and her adventures before she is taken from the salt mines and given the choice to fight for the title of King's Champion.
I read the first four books in the series before starting this. I don't think it would have changed anything if I had read it after Throne of Glass or Crown of Midnight. There were little things in this book of novellas that explained things within the series that were just mentioned in passing but not knowing them until now did not lessen the amazingness that is the Throne of Glass series.
I do think I should have read this before Queen of Shadows, if only to know more about Arobynn Hamel, the King of Assassin's, beforehand. He is mentioned in the first few books but doesn't make an actual appearance until the fourth. These novellas really got into his character and Celaena's relationship with him.
I think the bigger story here was Celaena and Sam's relationship, though. In the main books we are told about Sam and what happened to him but in these novellas we are given the whole story. From the moment that Celaena realizes she's in love with him, up to that pivotal moment that changes everything for Celaena and starts the Throne of Glass series.
I really enjoyed this relationship. It seems much more real to me then the relationship with Chaol or Rowan. This is more of a 'first love' story and those always hold the most emotion and wonder.
But this isn't just a handful of novellas focusing on the relationship between the two. Each novella adds to the bigger story and at the same time gives us a look into Celaena's early assassin years. The few stories that we've read about in short in the main books.
I loved almost all of them but the Pirate Lord and Desert stories really stood out for me. There was action, plot, and purpose. Characters that interested me. Those two were quite different compared to the others and the actual series itself.
My withdrawals from this series have been sated, if only for a short time. We have four more months to wait until Empire of Storms releases!!!