I won a free physical copy of this book from Houghton Mifflin Harcourt via Goodreads Giveaways and was encouraged but not required to give a review. This in no way affects my opinion of the book.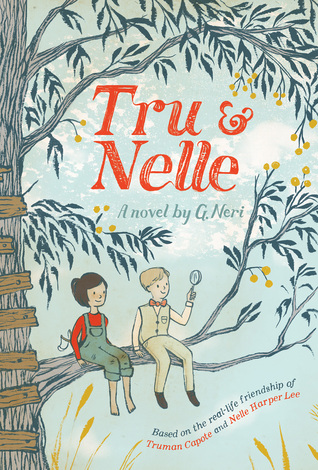 Title: Tru & Nelle
Author: G. Neri
Publisher: HMH Books for Young Readers
Publication Date: March 1, 2016
Genre: Middle-grade, Historical Fiction
Pages: 336
Source: Goodreads Giveaways
Long before they became famous writers, Truman Capote (In Cold Blood) and Harper Lee (To Kill a Mockingbird) were childhood friends in Monroeville, Alabama. This fictionalized account of their time together opens at the beginning of the Great Depression, when Tru is seven and Nelle is six. They love playing pirates, but they like playing Sherlock and Watson-style detectives more. It's their pursuit of a case of drugstore theft that lands the daring duo in real trouble. Humor and heartache intermingle in this lively look at the two budding writers in the 1930's South.
My Thoughts:
Long before they were famous published authors, Nelle Harper Lee and Truman Capote both lived in Monroeville, Alabama where they became great friends, played Sherlock Holmes to solve mysteries around town, and urged each other to write stories.
This mostly-true account of their friendship is a gem of a story. Fans of either 'To Kill A Mockingbird' or any of Capote's novels will find bits of pieces of those works immersed into this cute little story. It's been years since I read 'To Kill A Mockingbird' but there were things that really stood out and reminded me of it. I have yet to read any Capote but it sounds like there are a lot of things about Truman's childhood portrayed in this book that reflect his written works.
If you've ever wondered what either author was like as a child or where the ideas for their books came from, this is about as close as you will get to the truth in story form. Taken from documented accounts of a third, childhood friend, Big Boy, the majority of everything in this book is true.
This really a lot of fun to read. It's set in the 1930's, around the time of the Great Depression, when having a good time for a kid meant using your imagination and using whatever you could find. This is a great reminder for kids these days that you can do anything as long as you can imagine it.
There was a part in this book that made my blood run cold and I expected the worst to happen and hoped it wouldn't with each further word I read. Luckily, as a children's book, nothing seriously bad happened. This book, like 'To Kill A Mockingbird', touches a little bit on the Klu Klux Klan and racial inequality that ran rampant through most of the 1900's. Luckily, we have a great cast of characters, based on great progressive people like A.C. Lee to help stomp that nonsense out.
I think this is a perfect read for all ages, whether or not you've read or are familiar with either authors and their works, like mysteries or not, or are just looking for something fun to read. This is one book that I think is a perfect companion or maybe even a precursor to 'To Kill A Mockingbird'.