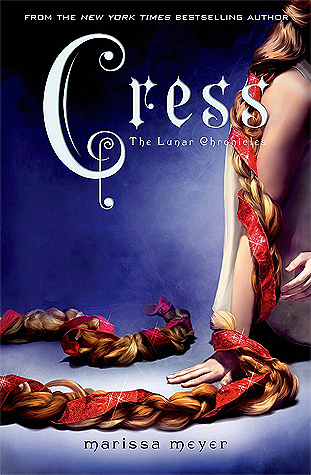 Title: Cress
Author: Marissa Meyer
Series: The Lunar Chronicles #3
Publisher: Feiwell & Friends
Publication Date: February 4, 2014
Pages: 550
Genre: YA, Sci-Fi, Fantasy, Retellings
Source: Library
Goodreads Choice Awards Nominee for Young Adult Fantasy and Science Fiction (2014)
Even in the future there are damsels in distress...
In the third installment of the Lunar Chronicles, Cress, having risked everything to warn Cinder of Queen Levana's evil plan, has a slight problem. She's been imprisoned on a satellite since childhood and has only ever had her netscreens as company. All that screen time has made Cress a great hacker. Unfortunately, she's just received orders from Levana to track down Cinder and her handsome accomplice.
When a daring rescue of Cress involving Cinder, Captain Thorne, Scarlet, and Wolf goes awry, the group is separated. Cress finally has her freedom, but it comes at a high price. Meanwhile, Levana will let nothing prevent her marriage to emperor Kai. Cress, Scarlet, and Cinder may not have signed up to save the world, but they may be the only hope the world has.
This third book continues the story that started in Cinder and Scarlet and adds in the character Cress, the Lunar shell that has been imprisoned alone in a satellite for the past 7 years. Cinder and crew make a daring rescue but when things go awry, they end up separated. Meanwhile, Prince Kai is dreading his upcoming marriage to Queen Levana and is holding onto a hint that Princess Selene might still be alive.
It's been a couple of years since I read Cinder and Scarlet so the story was not very fresh in my mind. I remember quite a bit from Cinder but almost nothing from Scarlet besides her, Wolf, and Thorne. No matter though because this is a pretty fast-paced story that easily continues from the previous books and is easy to follow.
I really enjoyed Cress as a character. Socially awkward since she's been void of interaction for so long. She talks to herself and pretends to be things like an actress to get herself through tough situations. She's a bit of an aloof sweetheart. Her infatuation with Carswell Thorne really made me sympathize with her. He's a tool. She's naive and bound to get her heart broken for the first time but I'm hoping it doesn't end up that way.
Can I just say how every other couple in this series is 100 times better than our original little romance between Cinder and Kai? Perhaps it's that they don't really get much one on one time but I am much more invested in Scarlet & Wolf and Cress & Thorne as couples. And it's possible that we will get another couple in Winter?
I feel like I might have been a little more enthusiastic with this book if I hadn't had to wait so long to read this book. As it is, I'm seeing three more books in this series (Fairest, Winter, and Stars Above) and wondering if I should dedicate so much time to it. I know that so many people love this series though and I did enjoy Cinder even though I didn't think I would so I will probably continue. I can already see how most of this story will turn out but I'm pretty curious about Winter as a character now so that is what is urging me to continue.