I received a free e-ARC of this book from Netgalley and Candlewick Press in exchange for an honest review.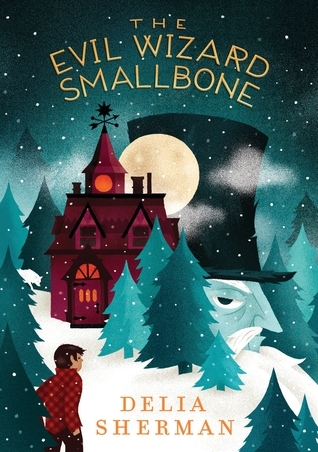 Title: The Evil Wizard Smallbone
Author: Delia Sherman
Publisher: Candlewick Press
Publication Date: September 13, 2016
Genre: Middle Grade,
Length: 416 pages
Format: ebook
Source: Netgalley
Synopsis:
In a hilarious tale reminiscent of T.H. White, a lost boy finds himself an unlikely apprentice to the very old, vaguely evil, mostly just grumpy Wizard Smallbone.
When twelve-year-old Nick runs away from his uncle's in the middle of a blizzard, he stumbles onto a very opinionated bookstore. He also meets its guardian, the self-proclaimed Evil Wizard Smallbone, who calls Nick his apprentice and won't let him leave, but won't teach him magic, either. It's a good thing the bookstore takes Nick's magical education in hand, because Smallbone's nemesis--the Evil Wizard Fidelou--and his pack of shape-shifting bikers are howling at the borders. Smallbone might call himself evil, but compared to Fidelou, he's practically a puppy. And he can't handle Fidelou alone. Wildly funny and cozily heartfelt, Delia Sherman's latest is an eccentric fantasy adventure featuring dueling wizards, enchanted animals, and one stray boy with surprising knack for magic.
My Thoughts:
Twelve-year-old Nick has only his uncle and cousin left in the whole world and they are the worst people ever. Tired of dealing with the physical abuse that they regularly bestow upon him, Nick takes off one snowy night and ends up on the doorstep of the library and home of the Evil Wizard Smallbone. The wizard immediately puts him to work and magics him so that he can't leave. Angry at his new mediocre fate, Nick cooks meals for the old wizard, feeds his farm animals, and mucks out their pens. Any time he steps out of line, the wizard turns him into something he'd rather not be, like a spider or a rat. One day while dusting the books, the magical library responds to his pleas by giving him a book of spells to master. Nick slowly learns his own magic thinking he can use it against Smallbone. But an evil wizard even worse than Smallbone has been terrorizing the townsfolk of Smallbone Cove and Nick finds that Smallbone isn't as bad as he makes himself out to be.
I really enjoyed this. There's a lot going on with the plot and characters and it's a somewhat fast read so there was no chance of me getting bored with it. I've read one other book by Delia Sherman, and though I liked it, I didn't think it was anything special so I went into this a little afraid that it would also only be so-so. I was proven wrong though because this was so much better than I was expecting.
Nick is a pretty damaged character with no parents and an abusive uncle and bully older cousin. He wants revenge but at the same time knows that there isn't much he can do about his situation. But he is headstrong and eventually finds a way. There's some good character development throughout the book as he makes friends and comes to understand just who Smallbone is, was, and could be.
The whole plot of stumbling upon a wizard's library, being conned into working for him, and slowly learning his own magic really reminded me of
Howl's Moving Castle
in a way, though I only made that connection until after I had finished the book.
Other than the magical library, the whole story of Smallbone Cove really drew me in. An entire town, protected by one wizard and set apart from the rest of the world. Tourists can come in, but the townsfolk can't leave.
I don't want to say too much about the villains but they were somewhat unique and entertaining. I didn't anticipate the ending and actually really enjoyed it. As a matter of fact, I can't really find anything that I disliked about this book at the moment though I am hesitant to give it a full five stars.
My Rating: A solid 4.5 stars