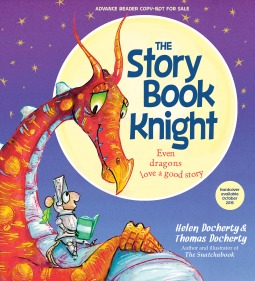 Title: The Storybook Knight
Author: Helen Docherty
Illustrated by: Thomas Docherty
Publisher: Sourcebooks Jabberwocky
Publication Date: September 6, 2016
Pages: 32
Source: Netgalley
Synopsis:
Even dragons can't resist a good story....
Even though Leo would rather sit at home and read, his parents send him out into the world in the hopes that Leo will become a famous knight. But when Leo comes up against the land's most fearsome beasts, he soon discovers that scary monsters enjoy a good book as much as anyone else...
My Thoughts:
Leo is content with just reading about knights and monsters in his books but his parents have higher hopes for his future and send him out to take care of a scary dragon that is terrorizing the land. On the way, he encounters a couple of other monsters but knows that a good story is just the thing to tame and pacify each and every one of them, including the dragon.
This was such a cute and charmingly illustrated story told in verse about a brave and gentle little mouse who loves to read.
I love that this story shows the power of books and the effect that a good story can have on just about everyone. Books can solve all sorts of problems. I absolutely love that our main character, Leo, is a reader. I don't think I've ever felt so attached to a picture book character before. Book lovers in stories always capture my heart.
This book would be a very welcome addition to my daughter's little library. I'm sure we would both enjoy this picture book for years to come.